Feature: Rave reviews
clubbers who want to sweat all night and sleep all day – we've known that for a while. Historically, youngsters go dancing, the rest hire a car and a villa. But now there's a third way for the affluent to rave and relax in real style.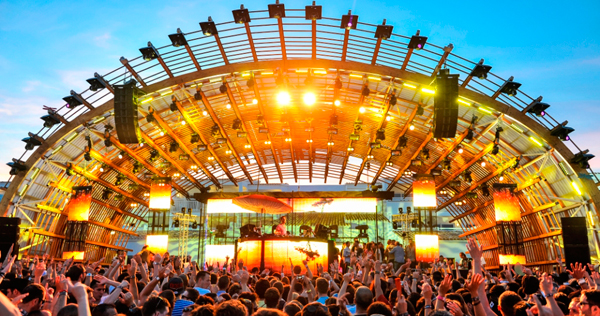 Apart from the soothing cicada chirp of the Mediterranean, it is completely silent.
The pool at Sa Talaia, in the tiny Ibizan village of Ses Paisses, is shrouded by tall trees and soft breezes, a world away from the bubbles, glitter and mesmeric crowds at Ushuaia the previous night.
Fourteen heavenly rooms nestle in the woods where beautiful people gather in small clans to rejuvenate. It's hard to believe the two are related: an immense super-club hotel, gilded with excitement and dancing girls and boys, and its little sister, a rural retreat so hidden you can disappear into the palms and turn off
the noise.
But the bond between Ibiza's most progressive hotel and its quieter sister is exactly what this island is about: night owl or not, you really can have
your cake and eat it.
At Palladium Hotel Group's Ushuaia Beach Resort, on the Playa d'en Bossa seafront just outside Ibiza Town, you are not just close to the party you ARE the party. Built around a 5,000-capacity open-air club, it is all white-washed villas, tempting four-poster Balinese sun-loungers and a continuous euphoric beat. Model-like staff juggle magnums of cava and a quizzical army of neon animal sculptures stare down from the rooftops.
My room, a large minimalist pod overlooking the pool, is embellished with light chromotherapy to create the right mood, blackout curtains and a minibar containing such essentials as Haribo, shrink-wrapped jamón and an erotic kit.
There's a recording studio offering DJ workshops; a traffic light system allowing you to set your room number to glow red for do not disturb; a Facebook wristband? – the first of its kind in the world – enabling you to share your party photos with the world; and, somewhat dangerously, a secure Paytouch system which links on screen menus directly to your credit card. Everything is made easy.
When the time comes to put something in your mouth, the hotel's Minami restaurant is considered the best Japanese on the island. It comes complete with holographic geishas and the Teppanyaki experience, which involves eggs being sliced open in mid-air with knives.
At the Beach Club, fresh fish, Mediterranean cuisine and a delectable peach sangria are the perfect accompaniment to people-watching. And there's also cava available at breakfast, naturally.
Around the island, the cream of the high-end eating crop are supreme sushi specialists Blue Marlin (bluemarlinibiza.com), Sa Capella, an ethereal eatery set in a 400-year-old monastery chapel (ibiza-restaurants.com/sacapella) and Can Berri Vell, which offers true Ibizan cuisine in a 17th-century house in the village of Sant Agusti (canberrivell.com).
But the food will never take centre stage in the spiritual home of dance music. VIP access to clubs such as Pacha and Space can be arranged, but if your guests are staying at Ushuaia they won't need to wait until dark to get started. Its gargantuan stage attracts the very best, including Luciano, Swedish House Mafia and Calvin Harris, who perform while Barbarella-like dancers dangle from swings and spray cold air from huge (mildly phallic) guns. The party starts in the late afternoon. As the hours gently roll by the bass gets louder and frocks get smaller, and soon the pool area is packed with? residents ready to fall in love with life, music or whomever is standing next to them.
After midnight, a select few hire one of the intriguing coloured 'boxes' – VIP rooms for up to 10 people with sound-proofing, Jacuzzis and fridges full of booze? – or move to Ushuaia's indoor club. I headed across the road to Space to find a Fifty Shades of Grey-themed floor show (whips and chains are just the half of it), care-free abandon all round and an outdoor terrace when air is required.
In the morning the Grand Palladium Spa & Wellness centre allows for tanning and recuperating, and Jacuzzis, saunas and steam baths prepare guests for a day exploring or another night out.
In June, Palladium Hotel Group's new baby, the Ushuaia Tower, will open its doors. Guests at the eight-floor block will have full access to the Ushuaia Club but will also enjoy all the benefits of a luxury hotel. Its 181 new suites will include the 'Anything Can Happen' suite, with pillow and sheet menu, and the 'I'm on Top of the World' suite, offering an exclusive room butler service, private check-in, airport transfers and spa treatments.
The Xaloc Sky Lounge – already touted as 'the place to be' this summer – will be the first roof-terrace bar in Playa d'en Bossa with views over Ibiza's old town and the Ses Salines National Park. Expect a first-class wine cellar, steakhouse, oyster and caviar service at the Infinity bar and regular fashion shows and live concerts held around the pool.
So it's official. Ibiza is maturing nicely and has developed a rather fine party palate that allows the well-heeled to eat, drink and be very merry in five-star comfort.
GOOD TO KNOW: Ushuaia Ibiza Beach Hotel prices range from £150 per night for a double Superior room to £1,166 per night in the Ushuaia Deluxe Presidential Suite. The latter beachfront room includes champagne, spa treatments, Balinese beds and priority reservations for VIP tables. ushuaiabeachhotel.com/en
TOP TIP: Sa Talaia Boutique Villa offers double rooms from £176 per night based on two sharing (three nights minimum), including access to Ushuaia Ibiza Beach Hotel and complimentary use of a Mercedes or Smart car. hotelsatalaia.com
GETTING THERE: British Airways offers up to 10 weekly flights to Ibiza from London City with prices starting from £162 return. ba.com

Expert Tips
Gary Boyer, head of purchasing, Classic Collection Holidays
SUNSETS
Benirras beach with its impromptu drummings on Sundays, and the secluded cliffs near Portinatx lighthouse.
EVENTS
The Festival of Fuegos de San Juan sees a fantastic fireworks display over Ibiza Town (June 24). In the last week of July the five day Ibiza Jazz Festival is held on the Santa Lucia bulwark in Ibiza Town. In September, clubbing season comes to a fitting climax with closing parties.
RESTAURANTS
Juan y Andrea: Hire a private boat to take you to its wave-side perch. Kick off your shoes and run your toes through sand before dining on lobster and chips.?
Playa Illetas, Formentera
The Jockey Club: An informal brasserie on a beautiful beach, popular year-round with the well-heeled thanks to its fresh fish, good music and international menu.
Playa Salinas, Sant Josep
classic-collection.co.uk

Stay and Play
Aguas de Ibiza Spa & Resort: Located on Santa Eulalia's marina 18 miles from Ibiza airport, this eco-friendly minimalist design hotel organises private yachts for guests and rooms boast state-of-the-art technology.
aguasdeibiza.com/en
Hacienda Na Xamena: This white-washed property sits atop a 180-metre cliff in the heart of a preserved natural park overlooking the northwest coast
of the island, five minutes from San Miguel.
hotelhacienda-ibiza.com
Ibiza Gran Hotel: Overlooks the harbour in Ibiza Town. The spa offers a wide range of treatments including hydrotherapy.
ibizagranhotel.com
Ibiza by day
TAKE A TOUR
Isango offers commission on trips to Aguamar Water Park, cruises to Formentera (Ibiza's quieter neighbour where there are natural mud baths at Espalmador) and evening walking tours of Ibiza Town. Isango.com
Deliciously Sorted Ibiza provides upmarket concierge services including vintage car hire and pays commission on a case-by-case basis.
deliciouslysortedibiza.com
YACHTS AND BOATS
Charter a speedboat or yacht and cruise through dreamboatsibiza.com
HONE YOUR HAGGLING
For boho threads, pop into Ganesha in Ibiza Town. For designer labels, try Atelier, also in Ibiza Town. The Las Dalias hippie market is good for jewellery, bags and handmade clothing. Get stylish souvenirs from Sluiz at San José or Santa Eulalia.
DIVE IN CLEAR WATERS
Caves and shipwrecks hide a great number of multicoloured sea critters in water that's 14C to 28C throughout the year.
seahorsedivingibiza.com
EXPLORE ANCIENT SALT PONDS
All kinds of protected wildlife hide in the salt ponds of Ses Salines Nature Park. Birdnesting days and guided walks are available.
I