Feature: Calvia
in the footsteps of musicians, novelists and Bradley Wiggins, Tom Irwin discovers Deia and one of Spain's richest areas, Calvia.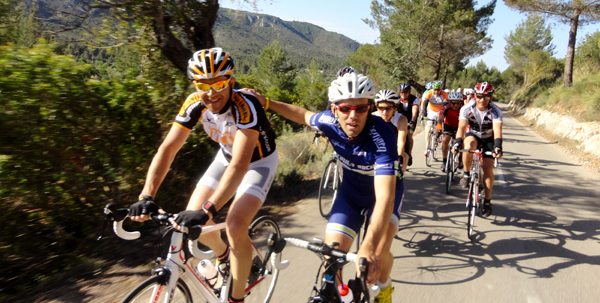 When Sir Bradley Wiggins was looking for a warm-weather training spot to prepare for the Tour de France, the stunning mountains and coastal roads of Calvia were deemed the perfect location.
But if the idea of wearing lycra for a week doesn't get your legs moving, fear not. The region, just a few miles west of Majorca's capital Palma, has a rich history of appealing to those of a less energetic disposition, ranging from musicians to artists, sunseekers and sailors.
The southern boundary of the region is 34 miles of coastline, studded with beach resorts and upmarket marinas (such as Port Adriano a £92 million creation designed by Philippe Starck) replete with super yachts and top restaurants. Cala Portals in Portals Nous and Renos in Santa Ponsa are two of the best, offering seafood with a Spanish flair. These meals are best enjoyed with the locally-produced wine, Malvasia.
To the north is the southwestern tip of the Serra de Tramuntana mountain range, which is full of hiking trails, cycling tracks and a rich variety of native plants and animals. It's an area of picturesque villages and natural beauty. The mountains have long attracted the wealthy and famous – particularly those in the arts – with the towns of Deia and Valldemossa especially popular. Deia became something of an artists' colony after English poet and novelist Robert Graves purchased a house there in the 1930s, and today the town retains that laidback, creative vibe and is home to a number of art galleries and museums.
At its heart lies a medieval village that sits among olive groves and overlooks lush valleys. Its size keeps it free from hordes of tourists; tour buses are too large to gain access, making the honeysuckle-scented maze of streets and Michelin-starred restaurants only available to a select few. Valldemossa is well known for its monastery (now a museum), but the highlight of the town's calendar is July 28, when the life of Catalina Thomàs, Majorca's first saint, is celebrated.
The fiesta is called Festes de la Beata and sees hundreds of locals and visitors line the streets to watch a procession through the the town.
In more recent years the region has also attracted sportier visitors. The hundreds of miles of perfect cycling roads around Calvia and the Serra de Tramuntana range prompted Bradley Wiggins to use the area for training. Orobikes.com can arrange high-end cycle hire and tours for clients. There's a great variety of terrain with a mix of leisurely and demanding rides, and the majority of the smooth, wellmaintained road routes seem almost purpose-built for cyclists.
The cycling season is busiest between February and May, but the generally dry, warm weather in winter makes it a good choice for an out-of-season trip when the roads are less busy.
Hikers will be attracted to the 11 miles of walking trails in the area; the terrain is rocky and rugged, and the views spectacular. During my stay I managed to sneak in a small walk in the hills above Real Golf de Bendinat, an attractive valley course, but it was clear to see why hikers enjoy it. If your clients want more challenging or guided walks Tramuntana Tours (tramuntanatours.com/walking.html) can organise bespoke routes.
Speaking of golf and hiking, the Golf de Andratx course nearby has recently introduced the option to complete a round by foot, having previously been buggy-only thanks to its four miles of undulating terrain. One of the most challenging courses in the Mediterranean, it overlooks the bay in Camp del Mar, it features the longest hole in Spain – hole six is 609 metres. Calvia is littered with great beaches best found by car. I stayed at the Melia Del Mar and they can arrange some classic cars to hire if your clients want to explore in style.
Just south of Magaluf is Cala Falco, one of Calvia's prettiest beaches – the sea here is shallow and good for kids, and there's also great snorkelling. To find the best snorkelling and diving spots and arrange private trips, go to Octopus-mallorca.com.
A little further south still is the beautiful cove of Cala Portals Vells. From the main beach you can hike along the cliffs to find a rock chapel built by fishermen to give thanks for a safe landing. Next to Portals Vells is Majorca's only official nudist beach, Playa del Mago.
The beaches around Palma Nova and Magaluf are obviously more crowded, but they feature excellent facilities and there are lifeguards during the summer. Magaluf might have taken a lot of stick in the past, but the notorious party town is looking to shed its negative image. Stylish hotels are cropping up such as Nikki Beach Mallorca, which opened last year, and attracts a sophisticated yachting crowd. Its parties are focused on high end tastes with champagne flowing like water.
Out on the water there is a huge range of activities to try, from sailing and yachting to kitesurfing, jetskiing and even water jet-packing. You can rent a yacht for your clients through Marina Balear at Port Adriano (Marina-balear.com). Proximity to Palma (see box, right) is clearly one of the Calvia's upsides too – it's remote enough in parts to feel like you've stepped into the land that time forgot, but close enough to enjoy the city if you're missing a little urban action, plus it takes next to no time to reach the coastal areas of Calvia from the airport. And if the queue for a taxi is too long, you could always check if Sir Bradley's around and hitch a lift.

?
EXPERT VIEW – Gary Boyer, head of purchasing, Classic Collection Holidays
The Calvia region lends itself to the twin-centre trend in Majorca, combining time inland with time at the beach.
For a younger, style-conscious audience we feature ME Mallorca, close to Magaluf in an area with great nightlife. It's for a young, yet sophisticated audience who like to party in style – there are resident DJs and weekend pool parties.
For top-end luxury we recommend the St Regis Mardavall Mallorca Resort in Costa d'en Blanes, while new for 2014 is the Castell Son Claret. A member of the Leading Hotels of the World, it's a lovingly restored 18th-century castellated manor house, offering 38 bedrooms and suites set in 326 acres of parkland at the foot of the Tramuntana Mountains in Es Capdella. It offers luxury to rival La Residencia and Gran Hotel Son Net, and a taste of rural Majorca in absolute peace and quiet. Majorca sales finished 9% up last winter and 5% up for summer and it is our third most-popular destination by passenger carryings. Sales for summer 2014 have started strongly and are 11% up year on year.
WHERE TO STAY IN CALVIA
MELIA DE MAR: Knockout views, a fabulous place to unwind and adultonly. (See Aspire in March 2014 for a full review.)
MELIA.COM
GRAN HOTEL SON NET: Spectacular, hotel with large suites set in beautiful grounds in the mountains.
SONNET.ES
ME MALLORCA: New for 2014. Expect cool crowds, great food and chilled DJ sets around its huge pool. Next to Nikki Beach.
?MELIA.COM
NIXE PALACE: Close to Palma, the private beach is this hotel's best? feature.
HOTELMALLORCANIXEPALACE.COM
THE ST REGIS MARDAVALL MALLORCA RESORT: The Puerto Portals marina nearby offers some great restaurants.
STREGISMARDAVALL.COM
PALMA
Often billed as a mini Barcelona, Palma is the cultural hub of the island and is home to half of Majorca's population. The most famous and striking sight is the cathedral, which dominates the skyline and is a truly stunning piece of architecture.
If it's your customers' first trip to Palma, a cocktail at Abaco is a must. This former coaching house is all about the ambience and it's a stone-hearted soul that would fail to be impressed by the sumptuous interior and lovely courtyard. For coffee, Capuccino San Miguel near the cathedral is a tranquil spot to escape the crowds. Palma has several top quality restaurants – I enjoyed an excellent (and good value) tasting menu at Simply Fosh, brainchild of Marc Fosh, the first British Michelin star chef in Spain. Ca'n Manolo also gets rave reviews as a top seafood restaurant popular with locals. For something a bit different, take a vintage train ride to Soller; named one of the 'great little railway journeys of the world', it winds through orange groves and beautiful mountain scenery.