Amadeus: Shaping the future of luxury travel [Report]
kly.co.uk/cms/media/eas-id-cms/30040" alt="" width="299" height="199" align="right" class="newsArticleImage">
Travel firms and suppliers in the luxury sector must be at the forefront of technology developments and innovation to deliver a 'true end-to-end experience' for their clients, according to a new Amadeus report.
The report, called Shaping the Future of Luxury Travel, is published in association with Connections, the networking event organiser for luxury travel providers, and includes exclusive data from Tourism Economics.
In addition to analysis of market trends and feedback from Connections delegates, the report identifies how new technologies ranging from micro-chipped towels to streamlined communication systems will play an increasingly important role in fulfilling the needs of a new breed of luxury traveller.
It also calls for increased collaboration between agents and suppliers to offer the seamless experience that premium travellers are increasingly coming to expect.
Rob Sinclair-Barnes, strategic marketing director at Amadeus IT Group, said: "Understanding your business's role in delivering an end-to-end luxury experience for a traveller is key to improving collaboration, and reinforcing an industry-wide push for consistent luxury service.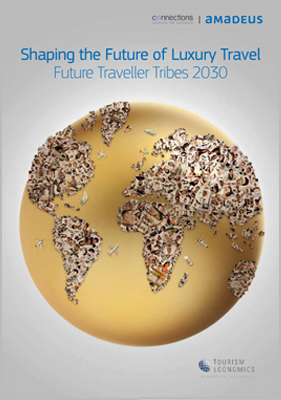 "Exploring the latest technologies and innovations for making the industry work better as a whole is key to achieving a new level of luxury that has never existed before."
He added: "Luxury means different things to different people and this is especially true today. As emergent middle classes seek the material aspect of luxury travel, more mature markets are craving a new, evolved kind of luxury.
"This is why offering luxury customers a relevant personal and exclusive experience will become even more crucial than it is today – it will be a differentiating factor between old and new luxury."
Data from the report based on business and first-class flights shows that luxury travel saw a compound annual growth rate (CAGR) of 4.5% between 2011-15, compared to an overall figure of 4.2%.
That trend is expected to accelerate over the next decade, with a CAGR of 6.2% projected for luxury travel against an overall growth rate of 4.8%.
The report found that North America and Western Europe currently account for 64% of global outbound luxury trips, despite accounting for only 18% of the world's population.
However, growth in the sector is likely to be driven by other markets, with India's luxury market CAGR of 13% being the highest of the 25 countries explored in the report and growth in the Asia Pacific region outpacing that of Europe's.

Read the full report here, or discover what type of luxury traveller you are with Amadeus.
Read the full report here, or discover what type of luxury traveller you are wit