Vegas, but not as you know it: What's new in Sin City
Australia | July 18, 2011
Pool at Nikki Beach, Las VegasThey say adapt or die, but few tourism destinations have taken this mantra to heart as much as Las Vegas.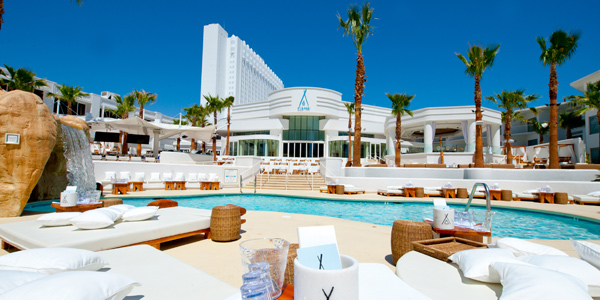 Pool at Nikki Beach, Las Vegas
They say adapt or die, but few tourism destinations have taken this mantra to heart as much as Las Vegas. Once the gambling capital of the world and a temple to kitsch, pastiche and general excess, the Las Vegas of today is almost unrecognisable from the one I saw on my last visit back in 2003.
These days, gaming revenue accounts for just a small percentage of the city's takings, surpassed by spas, nightclubs and food and beverage, while the hotel scene has experienced a shift towards style and sophistication.
As Jesse Davis from the Las Vegas Convention and Visitors' Authority puts it: "Theming is out the window." Indeed, in recent time, MGM Resorts International, which owns more than 10 Las Vegas properties, has invested money in toning down the "theming" at properties such as the Egyptian-esque Luxor.
Whatever they're doing, it's working. Some 12.7 million people visited during the first four months of this year, up 5% on the same period last year. The UK remains a core market and can only be boosted by the reintroduction of direct flights from Manchester.
Virgin Atlantic launched a twice-weekly service in April, which was followed by the opening of the V-Room?airport lounge last month. Meanwhile, British Airways added bigger aircraft with first-class cabins on its Heathrow service last month.
Whereas visitors might previously have sought shelter from the desert sun in one of the windowless casinos with a plastic cup full of coins, now they flock to sip cocktails and party poolside at the many private pool areas or 'day clubs' that have sprung up on the Strip in the last five years, such as Encore's?Beach Club, which at night becomes part of the club Surrender.
One of the latest is Marquee, at the 2,995-room Cosmopolitan hotel, which opened next to CityCenter in December. Marquee doubles as a nightclub and a day club, with grand cabanas and private infinity pools.
I spent an afternoon road-testing one of the cabanas at the Bellagio's new Cypress?pool area, grazing the cocktail menu and contemplating taking advantage of the poolside massage service. The experience was rather pleasant, but be warned, the price can run to thousands of dollars, especially if you want to hire a lounger or one of the cabanas.
Alternatively, over-21s can hang out at the topless 'European' pools at resorts such as at the Wynn and Caesars Palace, and splash out on a cabana and the bottle service, just like they could at a high-end nightclub.
Arguably the best example is Nikki?Beach, a property that is more Ibiza meets South Beach, Miami than traditional Las Vegas. At night, guests flock to Club Nikki to hear superstar DJs from big-name clubs such as the Ministry of Sound, but in the daytime it's all about checking out – and being checked out at – the outdoor pool area.
The minimal white and wood styling is a million miles from old Las Vegas, as is the pumping sound system and DJ booth. Two bars cater to guests on day beds and loungers, or posing by the pool, which is flanked by a pricey arc of teepee-style cabanas.
While there is an adjoining casino, it's more of an afterthought, plus it's compact, light and bright, in marked contrast to the dark, cavernous and windowless gaming floor of the behemothic MGM Grand across the way.
Nikki Beach is part of the revamped 1,375-room Tropicana, a good example of how some of the older properties are reinventing themselves. Once a target for demolition, a change of ownership has led to a major refurbishment.
Now, with Nikki Beach, refurbished hotel rooms, a residency by soul legend Gladys Knight and its new Mob?Experience attraction, Tropicana is back in the game.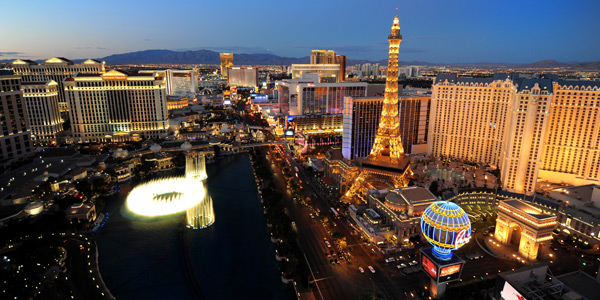 For a city that never sleeps, Las Vegas sure has a lot of beds – more than 150,000 at the last count.
The opening of the massive CityCenter?complex on the Strip at the end of 2009 added four hotels alone, including Aria, the Mandarin Oriental Las Vegas and the Vdara Hotel & Spa.
Slick, sleek and boutique is the modern mantra, which has also been re-endorsed in the latest big opening, the Cosmopolitan and even the all-suite boutique hotel Rumor, just off the Strip opposite the Hard Rock.
Indeed, the closest thing you'll find to newly-built kitsch is the Italianate?Ravella, which opened off the strip on Lake Las Vegas in February.
At the same time, established properties such as Wynn and sister property Encore continue to reinvest and reinvent to stay ahead of the game. Caesars Palace, which has seen its customer demographic get younger after its appearance in the hit movie The Hangover, is collaborating with Nobu Hospitality to turn its Centurion Tower into a 180-room Nobu Hotel and restaurant by late 2012.
Its parent company is investing in its older sister properties such as the Flamingo, currently undergoing a rolling room refurbishment.
Other quirky properties taking another roll of the dice include the Stratosphere, home to thrill rides such as X-Scream and the bungee-style SkyJump, which is spending £12 million renovating its 909 guest rooms.
Meanwhile, CityCenter's huge mall, Crystal, has helped to fuel another ever-growing market – shopping. A lust for retail therapy, stoked by affordable malls such as the Premium Outlets complex Downtown, and the Miracle?Mile Shops at Planet Hollywood, has been taken to another level by the range of high-end boutiques and designer outlets at Crystal and the Forum?Shops at Caesars.
Even Downtown, the original Las Vegas, is reinventing itself. When I visited, it was fresh from hosting June's massive electronic music festival, the Electric?Daisy Carnival.
However, its big draw remains the Fremont?Street Experience, with its bars and casinos, and new activity, Flightlinez. The zipline sends visitors hurtling over Fremont Street, which is flanked by vintage flashing neon signs that encapsulate the spirit of old-time Las Vegas.
However, new attractions such as the Smith Center for Performing Arts and a new museum showing the history of the Mob, both due to open next year, are widening the city's appeal.
For $15, visitors can also book a tour at one of my favourite places in Las Vegas, the Neon?Museum, or 'boneyard' – an outdoor museum comprised of old Las Vegas signs.
On the accommodation side, properties such as the Plaza and the Golden?Nugget, which added a new tower a few years back, have undergone recent refurbishments. The latter revamped its pool area, The Tank, to include a massive water slide, while a fish tank offers swimmers the illusion of swimming with sharks, separated only by glass – that is, if they can drag themselves out of the private cabanas or off the sunloungers.
El Cortez, which was once owned by the mob, is celebrating its 70th birthday with an investment programme, including plans to add a pool area that it will share with its recently transformed sister property over the road, the funky 64-room Cabana?Suites.?
You don't need to look far to see the fate that awaits properties who don't adapt to the times. Back on the Strip, at the north end, lies the sad sight of the boarded-up Sahara, flanked on one side by the unfinished Fontainebleau, itself opposite another victim to the recession, Echelon, where construction has yet to get off the ground.
It would be a brave man who bet on the chances of old-style themed properties such as Excalibur, Treasure Island and Circus Circus being allowed to exist in their current guise. But however dated and out of step they may be, I can't help but feel the Strip would be a sadder place without them.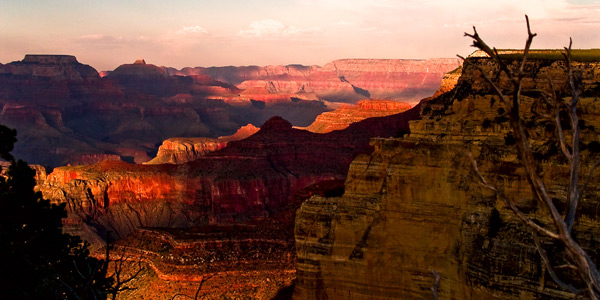 Grand Canyon - picture by Paul Fundenberg
No trip to Vegas would be complete without taking in a show or two and there's no shortage of options to choose from. Cirque du Soleil alone has three – Viva?Elvis, Beatles?Love and O – while the Smith?Center for Performing Arts' inaugural Broadway Las Vegas series, launching next year, will feature runs of Mary Poppins, The Color Purple and Wicked.?On the music front, Caesars Palace continues to pack in the big names at?its Colosseum. Canadian diva Celine Dion began a three-year residency there earlier this year, while Rod Stewart begins an 18-show run on August 24 and Elton John kicks off a three-year residency on September 28.
Recently opened nightlife options include Paris's new Chateau Nightclub & Gardens, the Gallery Nightclub in Planet Hollywood Resort & Casino and the Cosmopolitan's Marquee nightclub. Or if heavy machinery is more your thing, head to the newly-opened Dig?This attraction, where you get to dig trenches and bomb about in an assortment of diggers and dozers. I've been to the one in Colorado and it's surprisingly good fun.
Another highlight of Las Vegas is going on a tour of the Grand Canyon. You can take a road tour, like the full-day Pink Jeep Tour to the Grand Canyon South Rim, which costs £149 through Attraction?World, but a helicopter flight is the way to go. They are pricey but worth every cent.
I took Maverick?Aviation's early-morning Wind Dancer trip ($489), which was superb. After some top sightseeing on the flight, with commentary from pilot John, we landed for a glass of champers on a spot above the Colorado River before heading back to the Strip for 12.15pm.
Other options include Papillion?Airways' new sunset tours of the Grand Canyon and the Strip, and Funway Holidays' Grand Canyon helicopter and ranch adventure, from £269, which mixes sightseeing with cowboy capers.
In its latest weddings brochure Hayes?& Jarvis has added a new option (from £2,815) that whisks couples – plus the minister and up to three guests – from Vegas by helicopter for their nuptials at Grand Canyon Ranch, where they can stay over in a traditional wood cabin and live the cowboy life. Alternatively, couples can get hitched while hovering above the Strip on a Cupid's Night Flight (from £589).?Call 0871 200 2211.
At?Wynn Las Vegas, even non-guests can play 18 holes, right on the Strip – and they can book 30 days in advance, too. Various other courses are within a spit of the strip such as Bali?Hai Golf Club, with its island stylings; Badlands?Golf Club, Vegas' first public 27-hole facility; the Jack Nicklaus-designed Bear's?Best; and Legacy?Golf Club, where the tee boxes on the 10th hole are shaped like the four suits in a deck of cards.