The luxury game: High-end safaris in Botswana
Botswana | July 18, 2011
Elephant interactions are available at Sanctuary Baines' and Stanley's CampThere are almost endless reasons to go to Botswana.

Elephant interactions are available at Sanctuary Baines' and Stanley's Camp
There are almost endless reasons to go to Botswana. The game, from big cats to elephants, is plentiful; the wilderness is pristine, and the terrain varied. The lodges are among the most luxurious in Africa, and offer a wide variety of activities.
In fact, there's only one real stumbling block preventing tourists from booking – the price. It's famously a high-spend destination. As well as the cost of accommodation, the fact most people fly between lodges also pushes up the price.
But don't let price deter you from selling this amazing destination to your clients who have slightly less money to spend. There are many ways to see Botswana on a budget and our guide to this amazing destination will help you make your clients' dreams become a reality.
The Masai Mara in Kenya and Tanzania's Serengeti and Ngorongoro Crater are often name checked for high concentrations of game, but Botswana's Okavango Delta can easily compete.
"It's the predator capital of Africa," says Louise Stanion, Cox & Kings' Africa product manager. "You can sit with a glass of wine in the mess area of Mombo Camp on Chief's Island and watch lions without having to leave your chair."
Chobe, in the northeast corner of the country, is home to 120,000 elephants, the highest concentration of these large land mammals in the whole of Africa. In the dry season, huge herds gather on the banks of the river.
"What you get in Botswana that you don't get anywhere else is a guarantee of complete exclusivity," says Africa Odyssey director Julian Carter-Manning.
This is due to the fact many of the safari areas are private concessions rather than national parks. The concessions are still government owned, but are leased out to private operators.
As the concessions aren't open to the public, there will only be as many visitors as there are beds available, and clients can?be guaranteed that there won't be any jostling for position with other vehicles. They will have the animals to themselves.
There aren't many inland deltas in the world, and the Okavango is the largest, with grassland interspersed with flood plains and islands.
"It's a unique water system," says Alison Holman, W&O Rainbow Tours general manager. "The floods from the highlands of Angola create channels and islands, until it dries into the Kalahari desert. It's a pristine wilderness area with no fences."
Less visited but equally unusual, further south the Makgadikgadi Pan creates a vast, spare landscape of mile after barren mile of shimmering salt pans.?They are home to the San bushmen, and visitors to the few camps in the area can go tracking with them.
In Botswana's national parks – as in many national parks across Africa – only daytime game drives are permitted. However, once inside a private reserve it's another matter, so most lodges offer a wide range of activities for guests, from night drives to safaris in a mokoro, also known as dug-out canoe – an activity Botswana is famous for.
The Okavango Delta is usually a large part of any itinerary, especially if money is no object for clients. It's predominantly made up of private concessions, and most operators would recommend clients stay in more than one camp in the area.
Most commonly clients stay in a mix of 'wet' and 'dry' camps. Wet camps sit on the delta's main channels, and thus can offer boating safaris all year round. The areas the camps sit in are stunning, but they may have less game than the dry camps. The latter won't offer any water-based activities, but tend to be in areas with prolific game.
An alternative to camp-hopping is to stay in one mixed camp, which has access to water for boat and mokoro safaris, and to driving and walking safari circuits.
The delta is home to some of the world's best safari camps. Mombo and Chief's?Camp are particularly well known, but also particularly expensive, with rates running to more than $1,500 per night.
Chobe National Park is popular due to its huge elephant population, and because it's one of Botswana's cheaper areas. This means the boat safaris on the main Chobe River can be rather crowded and the area, particularly around Kasane, has a much higher volume of tourists than any other in Botswana. However, unless clients are obsessed with constant exclusivity, it's not one to miss.
"There's something about Chobe, and it has the best boating safaris in Africa," says Africa Odyssey's Carter-Manning.
To avoid the worst of the crowds, send clients outside Kasane to a lodge in a more remote area of the park – try Muchenje?Safari Lodge, which is recommended by operators for its great value as well as a great location.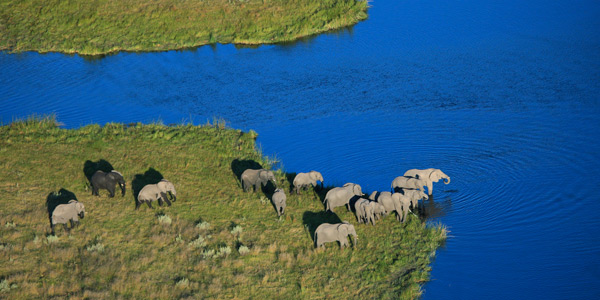 Savute is an area of marshland in the west of the national park, recently given a new lease of life. In 1984, low flood water caused the Savuti Channel to dry up and the area became a desert until 2008 when it began flowing again, transforming the environment.
This area is edged by the high-end private reserves of Linyanti, Kwando and Selinda, which enjoy huge numbers of game with a capacity for only 110 guests across all three conservancies.
Further south and less visited than the Chobe and Okavango areas lie the grasslands of the Kalahari and the Makgadikgadi salt pans. Visitors to this area are likely to be Africa connoisseurs and those who crave wilderness experiences, and are less caught up in ticking off big game.
Lodges, such as the beautiful 1940s-style Jack's Camp, offer guests the chance to see meerkats, aardwolves and hyena, ride the salt pans on a quad bike and learn desert survival skills with the Bushmen trackers.
Let's be realistic here – however you slice it, Botswana isn't going to be cheap. But there are ways of not breaking the bank. Staying in national parks rather than private reserves will cost less, so look at lodges in the Chobe National Park and in the Moremi National Park, an area right in the heart of the Okavango Delta.
Another way to cut costs is a camping safari. According to Africa Oydssey director Julian Carter-Manning, this needn't be as basic as it might first sound. "&Beyond offers camping safaris, and these cost less than the lodges but offer similarly high standards."
&Beyond has Under Canvas operations in Chobe, Savute and Moremi – semi-permanent tented camps that move around the parks. The tents have double beds, en-suite bathrooms and hot bucket showers.
W&O Rainbow Tours offers a cheaper camping experience. Its 12-night Essential Botswana Camping Safari starts at £2,670, and visits Moremi, Savute, Chobe and the Makgadikgadi Pans.
W&O?Rainbow Tours has a new luxury escorted tour. The nine-night mobile safari stays at Linyanti Discoverer Camp, Khwai Discoverer Camp in the Moremi and Kalahari Plains Camp. With a maximum of eight guests, it's hardly a large group, but the opportunity to share the cost of guiding and air transfers means it's a good way to bring the cost of a Botswana itinerary down. It starts at £3,895 including all flights, transfers, meals, local drinks and game-viewing. 020 7226 1004
Wilderness?Safaris has significantly rebuilt two of its camps in the Okavango Delta. Chitabe Lediba's rooms now have sliding doors and outdoor showers, plus two family rooms with adjoining front decks or corridors. There's a new swimming pool too. The all-new accommodation at Abu Camp consists of six private villas, each with decks overlooking the lagoon. The camp has its own herd of elephants that have been rescued from captivity, abandonment or injury. There's also a new 'star bed' so guests can sleep outside over the elephant boma listening to the herd below.