Stockholm - Swede dreams
Sweden | December 06, 2012
Built on 14 islands linked by 57 bridges, Stockholm's beauty is an ode to design perfectionism, centuries-old tradition and Scandinavian cool.
Built on 14 islands linked by 57 bridges, Stockholm's beauty is an ode to design perfectionism, centuries-old tradition and Scandinavian cool. Spend the night in a jumbo jet, sip schnapps in chic Södermalm or take a ferry to a wild archipelago island.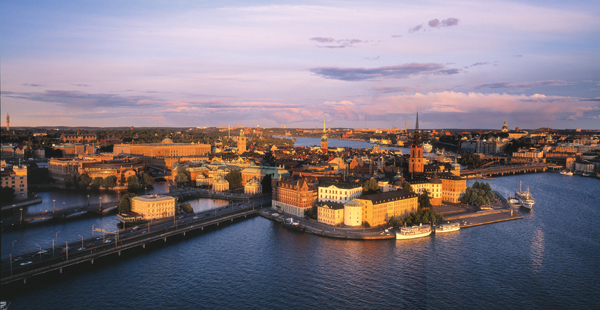 At some point in the night, we appear to have ground to a halt. It's my worst flight nightmare: the engine stops, splutters and the whole thing heads for the ground.But then I awaken from my slumber and remember: this may look like a Boeing 747 and even smell like a Boeing 747, but in fact it's a hotel – Jumbo Stay, in Stockholm's city airport.
Its existence exemplifies the Swedish capital's sense of humour – this is also a city with a hotel designed entirely to house sourdough bread culture. I relaxed in the lobby, which is kitted out with leather seats ripped out of old jets, and slept in the cockpit with my feet near the control panel. Yes, it's a gimmick. But it works.
Everything in Stockholm works. It is a clean, functional city, polished rigorously with high taxes. International exports, including TV show Wallander and author Stieg Larsson, lend it a gritty appeal, but it's also one of the greenest capitals in the world, and the council intends to make it a "climate neutral city" by 2050.
I spent the first day strolling around. The main 14 islands each have a distinctive flavour: Gamla Stan is the old town with orange buildings that look like naive art; Östermalm is all pomp and wealth; Norrmalm is the business and shopping district; and Djurgården is pretty parkland.
Across Skeppsbron bridge, Södermalm is Stockholm's East Village, bulging with independent boutiques and coffee shops. There was plenty of one-off designer clobber in stores such as Acne, Monki, Weekday and Nitty Gritty. In SoFo, eastern Sodermalm, Grandpa is great for vintage gear, while Coctail + Deluxe is packed with kitsch.
Ravenous, I headed to the upmarket Urban Deli, a hip, lively diner hidden behind a health food shop. The delicious pickled herring with mustard, sour cream and new potatoes was about as traditional as I can handle. Heading out, I noticed that whether they're clinging to a latte on their Saturday shop, carrying a string bag of organic vegetables or just scooting along on a bike with a basket, everyone in Södermalm looked cooler than me.
It's a cosmopolitan city, but Stockholm's pride is a product of its past. I hopped on a retro tram to Skansen, an outdoor museum on the slopes of Djurgarden. This is historical Sweden in miniature, with examples of Swedish architecture, from 14th-century farmsteads to 1930s townhouses and costumed staff demonstrating ancient skills such as glass-blowing and loom weaving. It is also home to Scandinavian animals such as moose, bears, lynx, wolverines and seals, and you can learn about Swedish traditions, such as Midsummer, Walpurgis Night and Lucia, all of which are thriving to this day.
One tradition the Swedes might want to ditch, however, is the bulbous cans of fermented sour herring, a national favourite dating back to the 1800s. Just one whiff of it almost knocked me out.
However, if you believe the hype, a revolution is upon us. Modern Swedish grub is making headlines. In 2012, two Swedish restaurants were featured on the World's 50 Best Restaurants list. I loved Hjerta, in former naval base Skeppsholmen, where mains included a scrumptious cod with scallops and a bouillabaisse reduction. I was also enamoured with Parlens, a 1930s-style coffee and toffee shop, where you can watch the sweet stuff being made and staff wear their hair in curls and curtsy saying "tusentack" (a thousand thank yous) as you pay. The vanilla and sea salt flavour is bizarrely palatable.
For fika, (the coffee break so loved in Sweden), I chose the cafe at the Scandic Grand Central, where DJ Alf Tumble, who matched his playlists to food, set the perfect tone as I bit into my second cinnamon bun.
At sunset, the Sjuan Champagne Bar at the top of Söder Teatern (Södermalm Theatre) had the kind of views best absorbed with a magnum of bubbles. Looking out over the noble city hall, the boats, trees and an amusement park built in 1883, it was easy to come over all starry-eyed as the light faded and I took in the twinkling buildings of northern Europe's best-preserved medieval city.
My last hurrah was a jaunt to Sandhamn, known as the swankiest island in the 24,000-strong archipelago. I boarded a speedboat from Stavsn??s Brygga and flew past tiny islands stained with seasalt. The farther you get away from the city, the wilder things become and one islet, Svartlöga, has no electricity and the smallest post office in the world. Much to my delight, Sandhamn was all crisp air, blue Baltic waters and thermal spas.
In 1897, the Sandhamn Yacht Hotel was built as a boat club for King Oscar II and his cronies. Now it has stripped floorboards, a huge bar bulging with Aquavit bottles, and an underground pool. I indulged with a five-course dinner in the nautically-themed restaurant.After just a couple of days in this city, I didn't want to leave. I seemed to have succumbed to a variant strain of Stockholm syndrome.

SAMPLE PRICES: SAS Scandinavian Airlines flies from Heathrow to Stockholm six times a day, from £74. flysas.co.ukA double room at the Scandic Grand Central leads in at £115, scandichotels.com/grandcentral A double room at the Sandhamn Yacht Hotel is from £212 per night. sandhamn.com
WHERE TO STAY
In Södermalm, the Rival Hotel, owned by Benny Andersson from Abba, is in prime position to explore the area's boutiques, bars and cafes. It has 99 opulent rooms with floor-to-ceiling windows overlooking Maria Square. The bistro serves up a smorgasbord of traditional Swedish gastronomy. rival.se
Positioned between the Grand Hotel and the National Musem, the Lydmar has a fabulous art collection, impressive bookshelves at the bar and 50 individually decorated rooms. It's easy to see how it has made its name among art and music lovers, with a constant stream of exhibitions, concerts and events. lydmar.com
WHAT TO DO
Splash out on a hot-air balloon ride over the city for panoramic views of the rooftops, waterways and parks of Stockholm, bubbly in hand. They even throw in a picnic. £130. uppner.se On street level, take a Segway tour through the historic city centre. It costs £73 for three hours. If that sounds like too much hard work, try a luxury brunch at sea. Every weekend Stockholm does a three-hour island cruise with a brunch buffet. Treats include Jansson's temptation, herring, salmon and roast beef. £46. uppner.se Spend a leisurely morning in an authentic Nordic spa where nature and the archipelago is the inspiration. After your treatment, make sure you stick around to try the infamous smorgasbord at the Veranda restaurant. Arctic massage £205. grandhotel.se
?