Riding the Rockies
Canada | September 23, 2015
The only problem with the view from the Rocky Mountaineer is that it isn't visible from the loo.
The only problem with the view from the Rocky Mountaineer is that it isn't visible from the loo. Whatever your f&b intake, metabolism, age, bladder control and pain thresholds, at some point you're going to have to answer the call of nature – and that means missing some truly incredible scenes.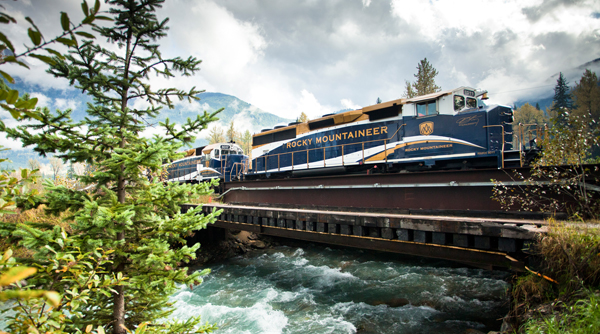 The real issue is the continual motion. You could pick any of a million spots along Canada's railways and build a terrace and people would queue to sit staring into the distance as if someone's told them there's an iPhone 7 out there – safe in the knowledge that, unless a bear runs past, they can nip off for a tinkle without worrying about what they might miss. But on Rocky Mountaineer, the loos don't have windows, and choosing which view you are willing to miss is nigh on impossible.
Before your clients get to these rather nice views, of course, they need to choose from five journeys that all sound a little like positions from the Karma Sutra: Journey Through the Clouds, Coastal Passage, and Rainforest to Gold Rush are among the routes on offer. I opted for the First Passage to the West trip from Vancouver to Banff during what is the company's 25th year in business.
The five routes are: Vancouver to Lake Louise, Banff or Calgary; Vancouver to Jasper; Seattle to Jasper, Lake Louise or Banff; Whistler to Jasper; and North Vancouver to Whistler.
Then there's the seat to be chosen. I beg you to put your clients in a GoldLeaf double-decker carriage with wrap-over windows. Anything else would be like buying a ticket on a space flight but asking for an aisle seat. The Midas touches are a top floor with comfy chair and that giant domed see-through roof/window combo, and a ground floor with an à la carte restaurant. Don't underestimate the joy of that mini-walk up and down the stairs on a long train ride. It also makes meal times feel like an occasion in a way that folding down a tray will never muster.
GoldLeaf also means gold food. Not literally. Executive chefs with the reassuringly French names of Jean Pierre Guerin and Frédéric Couton create the menus using lots of regional ingredients such as Pacific salmon and Alberta beef. It's such good food they even wrote a book about it: Eat Play Love. And as an aside, GoldLeaf also means free-flowing drinks.
Our trip began in Vancouver, with luggage disappearing at the hotel to reappear later in the next hotel. Walking along the platform alongside the giant train (the longest ever had a record-breaking 41 cars) is somehow an occasion in itself. Perhaps because the worry about whether there'll be a seat for you is just a distant memory of London Victoria station.
It's not long before the wheels start rolling (at an average speed of 30mph) and the window addiction begins as the giant snake heads east. Thanks to a team of hybrid helpers who not only know how to make a mean drink but also know pretty well everything about the route, the history, the wildlife (where to spot a 100-year-old osprey nest, for example), I knew what I was looking at. We moved alongside the Fraser River, with the Mount Baker volcano in the distance across the US border.
The Cisco Bridges, where the Canadian Pacific and Canadian National railway lines cross each other over this river, must be one of the all-time-great train-spotter spots. More exciting for the child in me were the enormously long freight trains that would take Roger Bannister in his pomp longer than four minutes to run along.
Before this trip, the Canada of my mind was snow, bears, moose and Mounties. So when the scenery started to look a little arid and, dare I say, desert-like, my woolly hat was squirrelled away and out came the flip-flops for an unexpected spring outing. The temperature and scenery changes on a two-day journey with an average speed of a 50cc moped? are extraordinary. One day I was wearing as little as is decent; the next, all my clothes while on top of an icy mountain.
We pulled slowly into Kamloops towards the end of day one, having just passed a lake by the same name and a ghost town as quiet as a ghost town abandoned 30 years earlier called Tranquille should be.
In the last mile it became clear that Kamloops is a rubbish place. Not in any derisory way – it's just a place where rubbish is never truly abandoned. The back yards ('gardens' to you and me) held sofas and washing machines as standard. This was a far more enjoyable spectacle than rolling past a load of perfectly manicured houses, and the town was in fact a delight (Kamloops panel, page 59).
Day two and I watched the white stuff fall, spotted a black bear, went through the five-mile Connaught Tunnel under Mount Macdonald, crossed the Stoney Creek Bridge (300ft drop), and enjoyed the Big Hill Spiral tunnels dug by engineering geniuses more than 100 years ago. Yes, enjoyed – these are seriously clever tunnels. We entered and explored the Rockies in a fashion that I can't imagine how to better. Bagpipers and Mounties greeted us in Banff (see box) 11 hours after we'd pulled out of Kamloops. It's a day your client will never forget.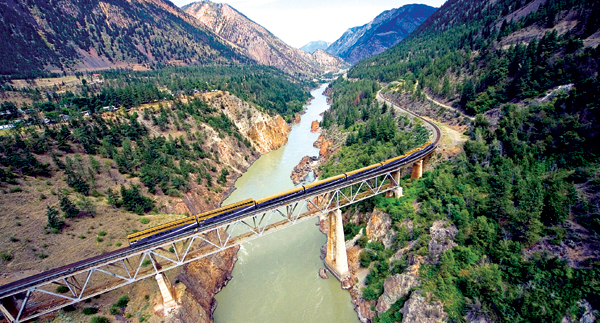 Vancouver
Clean, orderly, sophisticated, outdoorsy, cultured and beautiful – it's obvious why this city is always in those lists of the world's best places to live. It's surrounded by water, forest and mountains, so outdoor activities abound, such as Zodiac boat tours from Sewell's Marina and the Sea to Sky Gondola. Recommend your clients cycle to Stanley Park to see the gardens; landmarks such as Lost Lagoon, Siwash Rock, Beaver Lake and Prospect Point; monuments, sculptures and plaques, and wildlife. It takes about 10 minutes from the Fairmont Hotel Vancouver, which is perfectly placed for a first-time visitor keen to see a lot with ease. The best shopping is in this downtown area, but your clients will also want to head to Yaletown, once home to warehouses but now a touch chichi, and Gastown, famed for its cobble streets. Your clients can get free bike hire with an Experience Pass, which also offers complimentary access to many attractions, including FlyOver Canada and Vancouver Art Gallery. Many consider Vancouver to be the food capital of Canada, with a number of decent and varied restaurants in easy reach. Recent additions to the scene include Ask for Luigi, Cinara, Boulevard Kitchen & Oyster Bar, and The Fat Badger. And Granville Island market is a must-visit to see vendors selling cheeses, pasta, meats and more.
Kamloops
Kamloops is a surprisingly fascinating town that seems to have just realised that Rocky Mountaineer is bringing in trainloads of affluent people on a regular basis. It isn't pretty and the welcome was a couple of out-of-shape Mounties (probably fancy dress) on a shallow plinth. Apparently the two of them do it for fun and aren't part of anything official. But Kamloops is charming simply because it hasn't been sanitised for tourists. The rough edges remain and the place isn't, like Banff and Vancouver, focused so unremittingly on guests. The hotel options are scarce but Hotel 540 did the job for what is an evening bolthole, and the Noble Pig pub serving craft beer and friend pickles wouldn't be out of place in an edgy but not-really part of New York. It is starting to add sophistication to its charms, with four local wineries, two brew houses and several good chefs among the latest boasts. Terra Restaurant, which has taken over an old theatre, serves local food and wine but with a degree of style.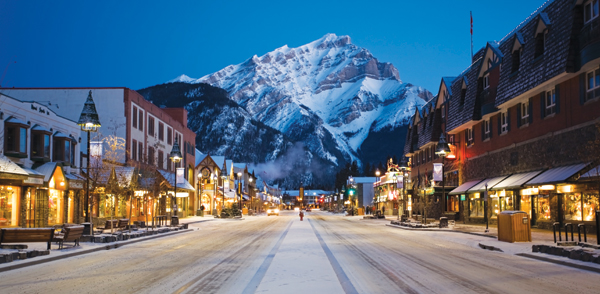 Banff
Banff is best known as a ski destination, and the Sunshine Village slopes were as wide as would be expected from a place with so much space. It has 107 ski runs and a long season that stretches from mid-November to late May. I went skiing, some went hiking and others went fishing with a chap called Big Jim. All can be sorted through Fairmont Banff Springs, a hotel that offers fairy-tale levels of grand and stunning. It's a short walk from the centre ville but, more importantly, this castle-like building has a setting worthy of it, thanks to its national park location. A photo does a better job than I can of explaining the 125-year-old place. Your clients really must stay here, whether it's summer for golf and walks or winter for snow-based fun. Banff is entirely set up for tourism, so tell your clients to expect a safe, pleasant and upmarket environment with enough to fill weeks of time for outdoor lovers. Tip them off about the Banff Gondola and the mineral-rich Banff Upper Hot Springs too.
Getting There
Air Canada offers more daily flights from the UK to Canada than any other airline, with up to 77 non-stop flights a week to eight major Canadian cities. From Heathrow, the airline operates four services a day to Toronto as well as daily services to Vancouver, Montreal, Halifax, Calgary, Ottawa and St John's, and three flights a week to Edmonton. The airline has introduced widebody Boeing 777 aircraft on its London-Vancouver route, which have a premium economy cabin. The airline is to operate a second service from Heathrow to Calgary and aims to offer up to 11 weekly flights.
aircanada.com