Petra the great: Why 2012 is 'a big one' for Jordan
Jordan | August 16, 2011
Wadi Rum, Jordan - picture by Cox & KingsWhat a difference a few months make.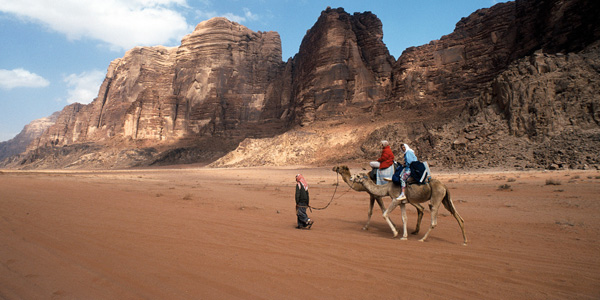 Wadi Rum, Jordan - picture by Cox & Kings
What a difference a few months make. Operators began 2011 toasting a record year that had seen visitor numbers to Jordan leap by 16.5% on 2009 levels.
With easyJet poised to launch its new service from Gatwick to the capital, Amman, there were high hopes for the year ahead too. Then the wave of unrest erupted across the North Africa and the Middle East and, despite Jordan being little affected, its tourism industry took a hit.
Pru Goudie, business development director at On?The Go Tours, says that at points this year sales have been running at about 60% of last year's, although "it's coming back slowly".
"There was a lull but right now it's booking really strongly – we're delighted," says Peter Crane, head of product strategy at Explore, while Neilson?Adventures' commercial manager Karl Bolton believes sales will recover to last year's levels within six months.
Next year marks the 200-year anniversary of Johann Burckhardt's 'rediscovery'?of its main tourism site, Petra, and the 50th anniversary of the release of director David Lean's acclaimed movie Lawrence?of Arabia.
"It looks like 2012 is going to be a big one," predicts Crane, and opportunities await agents who know their Aqaba from their Jerash.
Operators have been doing their bit to drive sales. In June, Mosaic?Holidays took 12 independent agents on a fam, in partnership with Royal Jordanian and hotel chain Mövenpick. And Explore, which offers 19 tours in Jordan, including two family holidays, is running a fam on September 28 for its five-day Rose?Red City tour.
With Steven Spielberg's new The?Adventures of Tintin movie set for release late October, also expect some activity from On The Go Tours, whose Destination?Tintin programme includes the eight-day Jordan and the Rose City. Longwood Holidays is also working on a Tintin-inspired offering, based on its existing tour, Highlights?of Jordan (from £1,699).
One of the challenges in selling Jordan has been pricing; don't expect all-inclusive fly and flops here. However, prices have come down thanks to the arrival of budget carriers such as Bmi and easyJet, while operators have added more value accommodation options.
Last year Mosaic Holidays introduced a Rustic Charm range to its standalone Jordan brochure, adding properties such as the Taybet?Zaman Hotel and Petra Guest House. Alternatively, operators such as Explore favour more basic, authentic properties, including desert camps. On Neilson's Jordan?Dana to Petra walking tour, clients spend five of the eight nights under canvas (from £895).
Keen deals are also fuelling interest. Having added the new easyJet service, Discover Egypt is offering big savings on its Jordan packages from September 2011 until October 2012. For example, its seven-night private tour Classic?Jordan, published price £2,199, now costs from £1,499.
Visiting Petra will be at the top of most wishlists. This ancient Nabatean city is an awe-inspiring place, and the teasing way it reveals itself as you navigate the passageway, or siq, through the rocks is positively flirtatious.
This first building, The Treasury, is the most photographed and, combined with a brief wander to the spot where you take the steps on foot or donkey up to the Monastery, forms the bedrock of many people's experience, especially the day trippers from resorts in Israel and Egypt.
You could spend days exploring the area though, visiting sites like Al Beidha (Little Petra), and a candlelit, night-time tour is a must. The cooking classes at Petra House are also popular (from £30 with On The Go Tours).
However, Petra is just one of Jordan's many highlights and since the country is relatively small, with excellent roads, even on a four-night tour, such as Longwood's Wonders?Express, you can take in a huge amount.
The desert and rockscapes of Wadi Rum play a starring role in Lawrence of Arabia and Explore gets clients on its top-selling Lawrence's Arabia tour in the mood by showing the movie ahead of their visit.
Camel and jeep safaris criss-cross the area and desert camps complete the experience. The entrance to Wadi Rum can get choked with groups of daytrippers though, says Bolton, which is why operators such as Neilson and Explore use more isolated camps.
Another popular spot for hiking and camping is Dana?Nature Reserve, which Hiedi Hutchinson, brand manager for Imaginative?Traveller, calls "one of Jordan's best natural treasures".
The area also features in The Adventure Company's new nine-night guided Journey?To The Lost City Relaxed Family Holiday, from £1,379 adult and £1,309 child, including flights.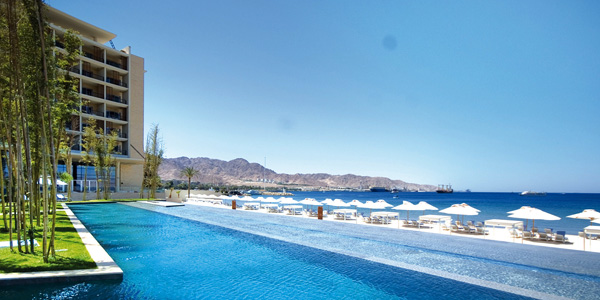 Kempinski Hotel, Aqaba, Jordan
To the south, the country's Red Sea resort, Aqaba, has blossomed in the last three years on the back of developments such as Tala Bay and Saraya, which have added hotels including a Kempinski, two Mövenpick?hotels and the four-star Doubletree?by Hilton Aqaba, which features in Longwood's latest Jordan programme. A Westin will open in 2013.
Visitors can do the usual Red Sea activities, such as diving and boat tours, and it's a mainstay on family tours such as Neilson's seven-night Classic?Family Jordan tour, which features snorkelling safaris. Flights link Aqaba to the capital Amman and it's also a port of call for cruise ships.
Jordan's Dead Sea coast is served by resort hotels offering spa packages from the likes of Mövenpick and Kempinski. When clients tire of slapping mud on themselves and bobbing on the salty sea they can retire to their hotel for a range of treatments.
The sea is fed by the Jordan River and the surrounding area is rich with sites of religious significance. Guided tours visit the spot where John the Baptist is said to have baptised Jesus, while at nearby Mount?Nebo, tours visit the spot where Moses is said to have died.
The north is also home to the capital, Amman. While more of a centre for business than tourism, it's worth visiting for the dining options, the luxury hotels and the cooking classes at Beit?Sitti school, which are popular with tour groups.
Further north, Jerash is home to some very impressive Roman ruins. If that whets your appetite, the sites of Umm?Qais and Pella are within a short drive and the impressive crusader castle of Karak is well worth a detour from the King's Highway.
To the lesser-visited east of the country lie the desert castles such as Qasr?Amra, the ruins of Umm?al Jimal, and Umm al Rassas, famed for its Byzantine church mosaics.
Add it all up and you've got a pretty compelling proposition. And as Goudie says: "With the 200th anniversary of Petra next year, Jordan will be very busy so beat the crowds and visit now!"?
With Syria off limits for now, Explore's Peter Crane says its new Lebanon and Jordan Discovery is selling "surprisingly well". The operator is set to launch a new In Style version using small, boutique luxury hotels in its Discovery Adventures 2012-13 brochure, out in October. "You can see both countries fairly comprehensively in a week," he adds.
Twin-centre tours with Israel include Collette Worldwide's new 12-day guided Odyssey to Israel and Jordan, from £2,299, including flights and most meals, while On The Go Tours' 18-day Pyramids,?Petra, Promised Lands combines Jordan with Israel and Egypt.
Alternatively, On The Go's Jordan clients can bolt on a four-day Jerusalem?& Beyond tour.
Many tours link Jordan with Egypt, such as Imaginative Traveller's eight-day, land-only Road?to Petra (from £745), and from September, Discover Egypt is reducing the price of its 15-night Spectacular?Egypt and Jordan tour, which features a Nile cruise and visits to key sites such as Petra and the Pyramids, from £2,599 to £1,999.