Oman: Bridging the gulf
Oman | May 31, 2012
Oman's high-end hotels are the best of hosts.
Oman's high-end hotels are the best of hosts. They are exquisite places to stay, offering spas, spices and places to splash. They are also luxurious bases from which to explore deserts, bash dunes and wow at dhows in this most enchanting of Arabian countries.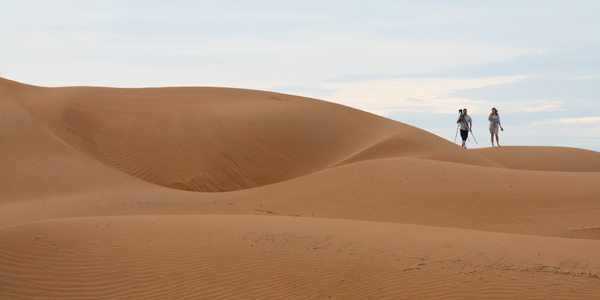 I like a swanky hotel as much as the next girl, but there aren't many I'd be willing to throw myself off a cliff to stay at. Six Senses Zighy Bay is an honourable exception. Sitting on a crescent of golden sand, it's cradled by the mountains of Oman's Musandam Peninsula. And just in case the four-wheel-drive approach isn't rugged and exciting enough, the hotel offers other ways to get pulses racing pre-check in.
There are two choices, and both are designed to make you feel like James Bond. Despite a vote from my companion to make our grand entrance by speedboat – clearly aiming for 007 as played by Roger Moore – I am adamant we should channel Daniel Craig and paraglide into the hotel.There's a moment when I almost regret my choice. High on a mountain above the hotel, we're just a few steps from the cliff edge. I'm buckled to a big bag of silk and a friendly Bulgarian called Itso.
"When I say run," he says, "run towards the edge and don't stop." But instead of the suicidal dive over a precipice I've imagined, I barely take two steps before a current of air catches our chute and I'm swooping up over the bay. I feel weightless, and – thanks to Itso's superlative flying skills – graceful, riding thermal after thermal among the rocky mountain peaks before spiralling down to land on the hotel's beach. Airport transfers really don't get any better than this.The Musandam Peninsula is a pretty special place. Dolphins frolic along a shoreline of mountains and fjords so striking, the area has been called the Norway of Arabia.
Beneath the waves you find spectacular scuba sites, with bright coral and fish close to shore and, farther out, the deep drop-offs that attract the sort of stuff that divers' dreams are made of – manta rays, whale sharks and turtles.But just in case nature's abundant gifts to Musandam don't make the grade, Six Senses has gone to a lot of trouble to provide extra-special extras. There's almost an embarrassment of specialness.
The hotel's Spice Market restaurant looked beautiful. I can only stretch to 'look' because we didn't dine there. We were too busy having a sunrise breakfast on the beach, an in-villa barbecue on our terrace, (dessert is left perched on the side of a freshly-drawn bath scattered with rose petals), and a private dinner on top of the wine tower. Here we sat and surveyed the hotel far below as Qassim, the mastermind of private dining experiences and thus a kind of friendly weight-gain enabler, ferried course after delicious course up a spiral staircase without breaking a sweat.
We hardly had time to lounge around our private pool, so busy were we being pampered in the spa, learning to cook Omani specialities with chef Ali, and sipping champagne on an evening cruise as the cliffs glowed apricot in the sunset and our guide Humaid gull-whispered a passing seabird until it perched, docile, on his hand.This bewitching corner of Oman is separate from the rest of the country, surrounded on three sides by the ocean and on the fourth by the UAE. A stay in this peaceful, mountainous region works as a perfect twin-centre contrast to the bustle of Dubai, which is just a 90-minute drive away. But Musandam makes up only one chapter in
Oman's rather hefty spellbook of enchantments, so there's every reason to twin the peninsula with the rest of the country, an hour's domestic flight farther south. In fact, many travellers don't make it to Musandam at all – getting sidetracked by the beauties of Muscat and the surrounding area.And if you're looking for a magic moment, try watching rain fall in the desert. I know, I know – as a Brit it feels rather alien to do anything other than complain about rain – but to see the heavens open and a downpour drench the dusky pink sands to blood-orange, to hear the rain drumming on the roof of your tented pavilion and to awake to dunes washed clean of all but tiny shoots of green is utterly unforgettable.
Much of Oman is desert. Farther south than many tourists ever venture is the aptly named Empty Quarter – 250,000 square miles of desert, where Oman eventually meets Yemen and Saudi Arabia, a place no European had crossed until 1931. Happily for the less-hardened traveller, there are friendlier sands, nearer the city. Wahiba Sands is just two hours from Muscat, and home to the rather swish Desert Nights Camp, a place that puts the bed in Bedouin. Just as Six Senses elevates Musandam's charms to suit those whose default mode on an aircraft is to turn left, Desert Nights Camp takes the raw ingredients of a desert adventure and cooks up a rather refined feast.
It's the equivalent of an upmarket safari lodge, but set in sand rather than scrub. The 30 white 'tented suites' are all air-conditioned, and guests sleep under crisp white sheets on king-size beds, shower in plumbed-in bathrooms and wrap themselves in fluffy robes. Sundowners take place on top of the highest dunes, and then it's a battle between the temptations of the rather stylish Oasis bar and the tranquillity of a night's sleep undisturbed by the sounds of civilisation.
It gets a little louder in the morning, when the roar of engines breaks the silence. If dune bashing in a four-wheel drive or quad bike is a little too speedy for comfort, there's always the option of a more sedate though somewhat ungainly journey by camel.Great tracts of Oman are desert or mountains – beautiful, but austere, and empty. This is just one side of the country. To get a full understanding you also need to head to Muscat. Here is where you see the Omani people – men in long white dishdashas sipping small cups of caffeine-rich, cardamom-flavoured kahwa, black-clad women with kohl-ringed eyes shopping in the frankincense-scented labyrinth of the Muttrah souk, children laughing as they run along the seaside corniche.
It's here you can marvel at the marble halls of the vast Sultan Qaboos Grand Mosque, named after and financed by the country's much-loved ruler, where friendly staff will show you the intricately illuminated pages of the Koran. You can visit the fascinating Bait Al Zubair Museum and understand Oman's trading history, see the colourful costumes and jewellery of its different tribes, and understand how much it has changed even in the past 40 years. Muscat is also where you'll find some of Oman's finest luxury properties, including the Shangri-La Barr Al Jissah.
It's also in Muscat that you'll really come to understand what makes Oman unique in the Gulf. All too often in this region, 'gulf' applies on a level beyond geography. For your average Briton, Saudi Arabia and Yemen are off the tourist map, seemingly closed to the West and almost threatening.
Equally, for many, the glittering towers and shopping malls of Dubai and Abu Dhabi don't deliver a sense of real Arabia. Oman is a bridge stretching between these two worlds – a stable, peaceful, modern, oil-rich country where women receive the same educational opportunities as men, a place friendly and open to the West, but also a truly Arabic state, a land of tradition and history, and a place of rich Islamic culture. Rarely has the phrase 'the best of both worlds' been more fitting.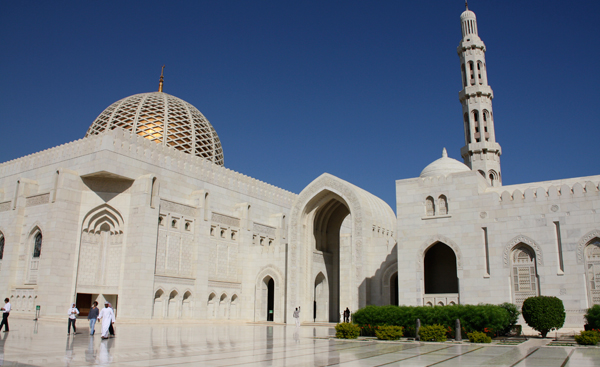 For more information on Oman, contact: Oman Ministry of Tourism Representative Office in the UK and IrelandTel: 020 8877 4503/4Email: oman@representationplus.co.ukomantourism.gov.om
PLANNING AN ITINERARY
Where to stayThose whose prefer a holiday of relaxation punctuated with occasional activity will be best sticking with a single-centre approach, staying at one of the beach hotels on the outskirts of Muscat: try the Shangri-La Barr Al Jissah (see box, page 27), The Chedi (above) or the Al Bustan Palace. Based at one of these, a handful of day trips will allow clients to explore the city of Muscat, the desert fortress of Nizwa, and Wahiba Sands. Those with a greater desire to explore will need longer – 10 days rather than a week.
What to seePeter Hilton, Cox & Kings' product manager for the Middle East, recommends at least a four to five-day circuit visiting Sur for watching turtles and dhow-making, Wahiba Sands for desert experiences and on to the fortress of Nizwa, via Oman's version of the Grand Canyon and its peak, Jebel Shams.
How to get thereOman Air flies daily direct from Heathrow. Read a review of its business-class, page 68.
Sample packageCox & Kings offers seven nights' bed and breakfast at the Shangri-La from £1,945 including flights and transfers. A seven-night tour visiting Muscat, Sur, Wahiba and Nizwa costs from £1,995.
SELLING SPECIAL EXTRAS
Shangri-La Barr Al JissahDolphin watching trip: £30 Dive: £31 Tours (one car, up to four people): Muscat £81, Nizwa £186, Wahiba Sands £266shangri-la.com/muscat00 968 2477 6788
Six Senses Zighy BayParagliding experience: £112 Sunset cruise: £66Cooking class: £78Dinner on the wine tower: £85-£143sixsenses.com/sixsenseszighybay00 968 26735 888
Desert Night CampDune bashing (25 minutes): £66Sand boarding (one hour): £19Camel safari (half-day): £104 Traditional shuwa barbecue: £66desertnightscamp.com00 968 9281 8388