Luxury Looks Up
March 26, 2015
If the West Indies were to throw a party, everyone would be invited.
If the West Indies were to throw a party, everyone would be invited.?For this is the region where the open-bar, all-inclusive concept was born. But beyond the ecstatically happy, midmarket revellers, there are VIP areas certain to please even the most discerning.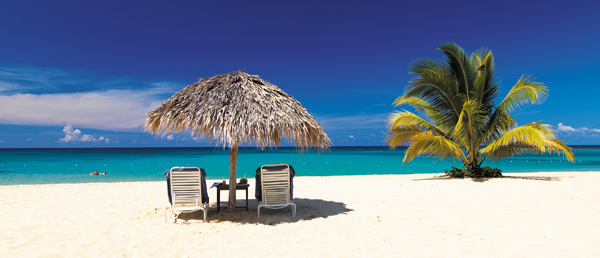 I like it when things get competitive. It raises the bar, adds excitement. Life in the Caribbean may appear to be all laid-back and relaxed on the surface, but behind the scenes there's lots of sibling rivalry between upmarket resorts. Properties are continually polishing up their act, eager to make their guests feel they have found supremacy.
But there's nothing brash about this contest. The cr??me de la cr??me of resorts here have a subtle charm about them. They create a feeling that you have not only arrived somewhere exceptional but also that your arrival is of the utmost importance.
One of my best welcomes was at the 78-room Sugar Beach a Viceroy Resort, in Saint Lucia, sold by Caribtours. Outside the elegant reception, staff greeted me in a line as if I were arriving back to my stately home. My luggage was whisked away, and the cold towel, cocktail and minimal paperwork was followed by a butler escorting me to my beachfront abode that had every treat and amenity you could wish for.
The Piton Peaks soar above the secluded bay at Sugar Beach, as if put there for your convenience, so you never need take a sightseeing tour to seek them out. Designer bathing suits are de rigueur here, but for those whose idea of luxury is not having to wear a bathing suit at all, there's Jade Mountain, also bookable through Caribtours.
The 29 rooms etched into a hillside have no fourth wall, just a panoramic view of the Pitons. You have your own pool and private terrace with sunloungers, so can spend your days in the buff if you choose. The spa is top-notch and the restaurant exceptional, so there's no good reason to leave. This is a funky property, too, with inspired, modern, eco-architecture.
When I'm looking for a touch of old-school charm, though, on a beach that could not be improved even by Photoshop, I head to Jamaica and park myself at Jamaica Inn, sold by Western & Oriental. Afternoon tea and croquet on the lawn, cocktails and canapes at sunset, polite conversation and dressing for dinner – it's the best of British in a quintessentially Caribbean setting. Winston Churchill and Marilyn Monroe loved it here, and guests still include the world's great, good and just plain famous.
I'm even happier when staying down the road at the art-deco Couples Tower Isle hotel, featured by Thomson. Here I follow in the footsteps of Louis Armstrong, Errol Flynn and Lena Horne, who hung out in the piano bar drinking martinis into the early hours. Tower Isle may be an all-inclusive, but it has five-star attitude. The executive chef is hell-bent on proving himself worthy of a Michelin star; the award-winning spa transports you to Far-Eastern Zen so fast you'll feel you're a time traveller; and then there's the decor – sumptuously stylish, art deco style furnishings and soothing pastel shades manage to fuse decadent and minimalist.
Couples Tower Isle is a one-of-a-kind, but when only a big-name property – one known for its ability to seamlessly deliver plush accommodation and state-of-the-art amenities – will do, one can always rely on a Ritz-Carlton, darling. Plonk such a palace of pampering on first-world Caribbean island Grand Cayman, and you have West Indian sun, sea and sand, but with slick service and exactness replacing the Caribbean's more usual, easygoing attitude. Ritz-Carlton Grand Cayman is sold through ITC Classics.
For something less structured on Grand Cayman, barefoot chic can be found at the Cotton Tree, a handful of high-spec cottages on an undisturbed stretch of beach, sold by Turquoise Holidays.
Another haven for those who subscribe to Jean-Paul Sartre's "hell is other people" school of thought, is Guana Island in the British Virgin Islands. With just 19 simple but chic guest properties on an 850-acre private island, you're unlikely to have to share a hiking trail, or even a cove, with any of your fellow guests. It's sold by ITC Classics. For chic, and not so simple, but with a few more people, there's Rosewood Little Dix Bay. With its hilltop spa, a bay frequented by turtles, and 95 luxurious rooms, it's another BVI gem and can be booked through Elegant Resorts.
Barbados, though, has probably the most-indulgent property in the Caribbean. Sandy Lane, sold by Elegant Resorts, is a rhapsody of opulence, with miles of marble, swish beach furniture, renowned restaurants and staff dedicated to realising your whims. The 112 rooms have bedside, touchscreen controls enabling you to open the curtains, adjust the air-conditioning and set the mood-music and lighting with minimum effort.
Elegant Hotels' Colony Club in Barbados has just upgraded its garden-view junior suites and one-bedroom suites with custom-made furniture, new TVs, iPod docking stations and Nespresso machines.
Another accommodation with aspirations of becoming a big name in Barbados opened in autumn 2014. Port Ferdinand Marina and Luxury Residences has 82 units including four-bedroom penthouses set around a harbour.
Anguilla's top-end hotels are a little more low-key but just as notable. The Moorish-style Cap Juluca does it for me, its crescent sweep of beach shared by just a few other lucky souls who occupy the comfy 70 rooms set back from the sand. Perhaps a better choice for city-slicker types is the 188-unit, hip and happening Viceroy. It's brimming with contemporary art and has a lively bar with talented DJs. Certain to keep this duo on their toes is the Malliouhana Hotel and Spa. This Auberge Resort reopened in November 2014 with just 55 lavish rooms, on the stunning Meads Bay. All three properties are sold by ITC.
Antigua has a new development too, albeit on a much larger scale. Yida International Investment Group is lavishing $2 billion on mega-resort Singulari. Set on the northeast coast, the resort will span a 900-acre site and 700 acres of outlying islands, and include five-star hotels and two golf courses. Work starts this year.Meanwhile, former US president Bill Clinton last month opened Haiti's first Marriott hotel, while? Puerto Rico's first Four Seasons hotel is slated to open in 2016 or 2017.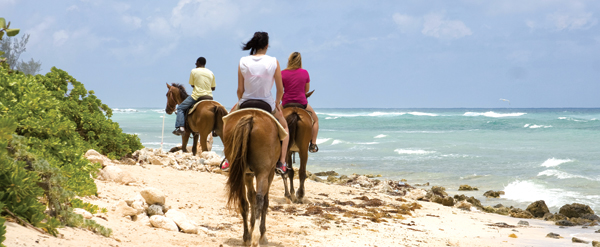 IN WITH THE NEW Ladera, Saint Lucia, is offering newlyweds the chance to customise the resort's in-room, wooden furniture, carved by local artisans, to buy and ship home on departure.ladera.com
For the first time, Fred Olsen Cruise Lines is offering a 32-night 'Caribbean from Scotland' cruise. It departs from Greenock (Glasgow) on November 10, 2015, with prices from £2,799. fredolsencruises.com
Sandals has added the excellent Robert Mondavi wines to the complimentary wine list, while butler guests at Sandals Royal Bahamian will soon be able to ride in one of two Rolls-Royces (pictured).sandals.co.uk
THREE STEPS CLOSER TO HEAVEN - Antigua's VC Bird International airport is this month opening a passenger terminal featuring two VIP lounges.
- St Vincent and The Grenadines' Argyle International airport is set to open mid-2015. Direct flights from the UK are promised, making the destination's luxury resorts, including Cotton House in Mustique, more accessible.
- British Airways operates first-class cabins to Bermuda, Barbados, Saint Lucia and Port of Spain.
EXPERT TIPSHelen Tabois, senior product and marketing manager, ITC Luxury Travel
"We have an increasing number of clients looking for upmarket Caribbean. This year, exciting developments include Baha Mar in the Bahamas, which will feature luxury brand Rosewood. There's also Belle Mont Farm at Kittitian Hill in St Kitts."But for all that's new, some classic, upmarket gems already cater to clients who expect the highest standards. Eden Rock joined the Oetker Collection last year, and Isle de France emerged from its seasonal closure as Cheval Blanc St Barths Isle de France, renewed and refreshed."St Barths is a gourmand's delight, and for spa lovers there's the standalone Clarins Spa at Le Guanahani hotel. In addition, private airline Tradewind Aviation now offers a scheduled service between Antigua and St Barths. Leather seats and inflight champagne reflect the calibre of holiday clients can enjoy there."
BOOK ITSeven nights at Cheval Blanc St Barth costs from £2,825 with breakfast, economy flights to Antigua, charter flights with Tradewind Aviation and private transfers. Valid for travel: April 19 to August 31, 2015.itcclassics.co.uk