Latin America: Rail journeys
November 05, 2015
Image credit: Journey Latin AmericaKeep your sales on track with these iconic train trips Like this and want more details? Click here to download and save as a PDF.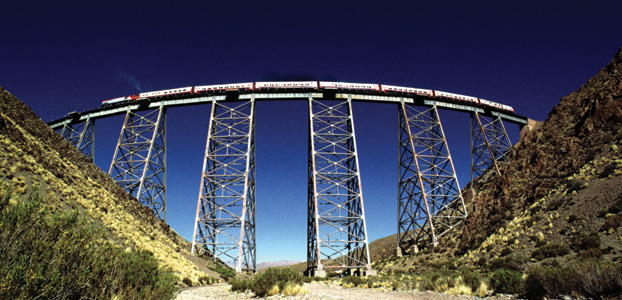 Image credit: Journey Latin America

Keep your sales on track with these iconic train trips
Like this and want more details? Click here to download and save as a PDF.
Every trip to Latin America is a journey – there's no point flying all the way there just to stay in one place – which is why most travellers are keen to notch up a few stops on their grand adventure.
So knowing how to turn the practical business of getting from A to B into a fundamental part of the fun is vital, and a rail journey – whether short or epic, all-out luxury or old-fashioned charm – might just be the answer.
Unless clients are really pressed for time, it's a far more rewarding way to travel than skipping over the scenery on a flight, and frees everyone up to admire the views, unlike a self-drive where someone has to keep their eye on the road.
And let's not forget those round-trip journeys that are worth taking for the experience alone.
Where: Round-trip from Salta, ArgentinaWhat: Distance 270 miles, journey time 16 hours. Runs Saturdays from April to December, plus Wednesdays in July.Why: The 'tren a las nubes' does exactly what it promises, ascending an astonishing 4,200m above sea level through the deserts of northwest Argentina.?Travellers will need a head for heights as they pass through lunar-esque landscapes dotted with cacti (it's so high, there's an onboard medical team to deal with cases of altitude sickness) and hop off at the turnaround point to see the 64m-high La Polvorilla viaduct.
Journey Latin America product manager David Nichols says: "Whether it's for the great heights or the peculiar sensation of floating on air as the single track glides across gaping canyons, Salta's Train to the Clouds is certainly aptly named. Soaring across the arid highlands of the northwest, this narrow-gauge railway performs some mind-boggling feats: there are plenty of vertiginous viaducts and snaking switchbacks, as well as two 360-degree loops. It's a thrill ride that lasts several hours and spans some of the country's most beautiful scenery."Book it: Journey Latin America has a two-day package from £688, including the full-day Train to the Clouds, accommodation in Purmamarca, an excursion to Tilcara and Humahuaca, and private transfer back to Salta. journeylatinamerica.co.uk
Where: Cusco to Puno (or vice versa), PeruWhat: Distance 240 miles, journey time 10 hours. Runs three times a week (Mondays, Wednesdays and Saturdays) plus Fridays from April to October.Why: Lake Titicaca should be on every Peru itinerary, and what better way to get there than this Peru Rail train to Puno, on the western edge of the lake?
Frequently cited as one of the world's best train journeys, passengers travel in classic 1920s Pullman carriages past fine examples of colonial architecture and small communities selling handmade jewellery or hand-woven fabrics. Highlights to watch out for include the colonial Andahuaylillas church on the outskirts of Cusco, the great temple of Inca creator god Viracocha at San Pedro and the journey's highest point at La Raya.Book it: Travel 2 offers an Andean Explorer excursion from Cusco to Puno or vice versa from £153, including lunch and afternoon tea. travel2.com
Where: Round-trip from Esquel to Nahuel Pan, PatagoniaWhat: Distance 25 miles, journey time two-and-three-quarter hours. Trains depart at 10am, with frequency varying by season.Why: There are some unique journeys through the epic landscapes of Patagonia, but none has achieved the legendary status of this heritage steam train. Thanks to Paul Theroux's 1979 travelogue, Old Patagonian Express: by Train Through the Americas, charting his journey from Boston to this sweeping region of southern Argentina, a steam train that still uses 1922 locomotives and counts a 1955 dining car among the more modern stock remains high on travellers' wishlists.
This is just a fraction of the distance La Trochita – meaning 'narrow gauge', for its 75cm track width – once covered, and there are still occasional longer journeys to El Maiten. Yet this taster still gives passengers a chance to experience carriages complete with wooden slats for seats and boxes of firewood to feed the furnace, to admire the vast landscapes and occasional birdlife passing by, and hop off for a quick tour around Mapuche settlement Nahuel Pan.Book it: Great Rail Journeys' 16-day Brazil, Argentina and Patagonia tour features this journey plus other memorable train rides including the Serra Verde Express in Brazil and End of the World train in Ushuaia. Prices start at £7,295, including flights. greatrail.com
Where: Quito to Guayaquil, EcuadorWhat: Distance 277 miles, journey time four days. It runs fortnightly from Guayaquil-Quito on Sundays, but weekly from August to September, departing Saturdays. The reverse journey follows the same pattern, departing Tuesdays year-round.Why: The very existence of this rail link is a testament to the back-breaking work of turn-of-the-20th-century engineers, who found a way to overcome the tough Andean terrain through which it passes, rising from sea level to highs of more than 3,000m, and running through a series of switchback turns at the infamous Devil's Nose section.
Don't expect speed – this is the slow route, with meals taken off-train, a host of guided excursions to places of interest, and overnights in local guesthouses rather than onboard the train. Yet with its restored carriages and early-20th-century steam locomotive, that's entirely in keeping with the heritage feel of this 100-year-old railway.Book it: Cox & Kings' private seven-day Train Crucero trip costs from £1,345, including two nights in Quito and a four-day train journey with hacienda accommodation and guided excursions, including Cotopaxi National Park, en route. Flights are extra. coxandkings.co.uk
Where: Chihuahua to Los Mochis (or vice versa), MexicoWhat: Distance 407 miles, journey time 15 hours. First-class trains run daily, departing both stations at 6am. The economy service departs Chihuahua on Mondays, Thursdays and Saturdays, and from Los Mochis on Tuesdays, Fridays and Sundays, at 7am.Why: This is a stunning feat of engineering, crossing a series of 20 canyons in the midst of the Mexican wilderness on its journey to the Pacific coast. The epic scenery is by far the biggest draw, but with plenty of stops en route, there are opportunities to meet the Tarahumara people who live in this central desert region.
The journey can be completed in a day, but those who really want to explore can spend up to a week hopping on and off the train to visit historic missions or Tarahumara villages, admire the canyon views or get a closer look with treks along the ridges.Book it: Rainbow Tours' seven-night Mexico City and the Copper Canyon spends three days in the capital, flies to Los Mochis to board the train, and stays overnight in Posada Barrancas, Creel and Chihuahua. Prices start at £2,395 including all flights, accommodation and touring. rainbowtours.co.uk
Where: Cusco (Poroy) to Machu Picchu, PeruWhat: Distance 54 miles, journey time three-and-a-half hours. The train runs daily except Sundays.Why: Unless clients fancy hiking for days along the Inca Trail, the train is a far more civilised way to reach this pinnacle of pre-colonial history, with Peru Rail options ranging from the low-cost Expedition to mid-range Vistadome and deluxe Hiram Bingham.
The most luxurious option is named after the explorer who rediscovered the citadel, and departs later than other trains allowing visitors to explore Machu Picchu in the quieter afternoons.
The 1920s Pullman-style carriages are all polished wood, brass fittings and comfy armchairs, and passengers get brunch on the way there followed by dinner with wine or beer on the return leg, plus entertainment from an onboard band and a masterclass in making pisco sours. The journey can be taken there and back in a day, or split with a stay at Belmond Sanctuary Lodge.Book it: A return trip starts at £456 including table d'h?'te meals, entertainment, guide and transport to Machu Picchu, and afternoon tea at Belmond Sanctuary Lodge. belmond.com
Vessela Baleva, Latin America product manager, Cox & Kings"Train travel is an experience in itself, making the journey part of the experience, rather than just trying to reach the destination. At times, you can't go any other way – for example, the Train Crucero descends the Devil's Nose switchback through the Andes with incredible scenery, which just can't be done via road. A train journey is much more comfortable when travelling longer distances. Unlike road journeys, where you can't walk around, the train has everything you need on board already, and offers more flexibility."