High on Bolivia
Bolivia | March 11, 2016
The remote location and challenging geography means Bolivia has avoided mass tourism, but those who make the journey are nicely rewarded.
The remote location and challenging geography means Bolivia has avoided mass tourism, but those who make the journey are nicely rewarded.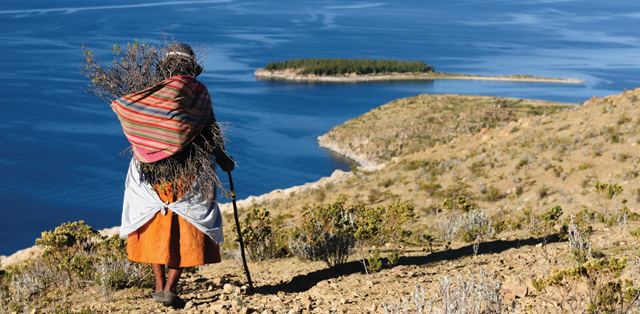 In Aymara legend, volcanoes were once giants who could move, talk and fall in love, and it was broken-hearted Tunupa's dried tears that formed the otherworldly landscape of Bolivia's Salar de Uyuni.Scientists would argue that the world's biggest salt flat formed between 25,000 and 40,000 years ago when a vast lake, Lago Minchin, evaporated. Its crunchy-white surface can be seen from the moon and is made up of 10 billion tons of salt, which cracks and forms natural hexagons.Either way, it is astonishingly beautiful and stepping on to it is a unique, mind-altering experience. As far as I could see in any direction was a shimmering cobalt-blue sky and an endless stretch of blinding, unbroken white, as if heaven and earth were colliding.In the rainy season, this 4,000-square-mile salt flat turns into the world's biggest mirror, attracting photographers from around the globe. Covered by a few centimetres of water, the reflected image of the clouds and sky stretches into infinity like a dazzling blue and white Rorschach inkblot.When I backpacked around Bolivia many years ago, exploring the salt flats, marvelling at multicoloured lagoons fringed with pink flamingos and wallowing in geothermal springs meant sleeping on the floor of unheated adobe huts and shivering in an inadequate sleeping bag in sub-zero temperatures.Bolivia still doesn't have the range of stylish boutique hotels of neighbouring Peru, Argentina and Chile, but accommodation options have improved and exploring its main attractions no longer means slumming it.It's not often you can lick the walls of a hotel, but the Palacio de Sal is made entirely of rectangular blocks of salt, from the cathedral-high atriums and rooms with domed ceilings to the platform beds and salt sculptures.Furniture is made out of holey cactus wood and there are a lot of laidback lounging spaces, from big open areas with log fires to ward off the evening's bitter chill, to cosy alcoves. The rooftop lounge, with its bright fabric chairs, wooden floors and wall-to-wall windows is perfect for sundowners and stargazing.If paradise hasn't quite put up a parking lot, Fish Island – where daytrippers from the frontier town of Uyuni make a beeline – now has far more 4x4s parked in front of it. But clients who stay longer can drop in on other islands – actually isolated mounds of petrified coral – that dot the landscape like surreal oases, populated only by giant phallic cacti.Only a fraction of the salt is extracted each year and I stopped at Colchani village on the edge of the flats, where 20 families live off salt, swapping it for other produce. A cholita – a Bolivian woman in the typical outfit of multi-layered skirts, bowler hat perched precariously on her head and long black plaits wound with coloured ribbon – sat on the floor packaging it into bags.Often overlooked by travellers to South America, Bolivia can be a tough place to travel, but for those who persevere the rewards are wonderful: incredible landscapes, one-of-a-kind adventures, pre-Inca civilisations and an authentic, living culture, with the highest proportion of indigenous people south of Guatemala.The salt flats may be Bolivia's main draw, but they are by no means the only one. Straddling the border of Bolivia and Peru, the world's highest – and one of its largest and deepest – navigable lakes, Titicaca is a glittering jewel in the sparse landscape of the Altiplano.The lake is scattered with diminutive islands and waterfront Copacabana is often used as a base to explore the delightful Isla del Sol, although it's worth spending a night on the island to devote time to both the north and south. There are no roads, but a network of well-marked pathways and ancient dry stone walls crisscross the island.From Isla del Sol's picturesque port of Yumani, I walked slowly to a soundtrack of my ragged breathing, up the rocky path to the top of the island, passing terraced fields of red quinoa, dodging donkeys and llama herds, and being passed by sprightly Andean women carrying enormous bundles strapped to their backs.With such a sublime setting, it was easy to imagine why the Tiahuanaco venerated the high peaks that overlook the lake, and the Incas believed it was the birthplace of their civilisation, where Viracocha rose up to create the sun, moon, stars and the first human beings.The small town of Copacabana is dominated by the outsized Basilica de Virgen de la Candelaria. With its gleaming white exterior, Moorish-style domes and colourful azulejos, or ceramic tiles, it wouldn't look out of place in Andalusia.It's where pilgrims pay homage to the Virgen de la Candelaria, driving for miles to receive her blessing on a new vehicle. Believed to work miracles, the statue of the 'Dark Virgin of the Lake' was sculpted by an Inca craftsman in 1576. The silver ship at the bottom of the altar represents the moon, while the gold statue above her head symbolises the power of the sun. A perfect reminder of Bolivia's fascinating cultural diversity.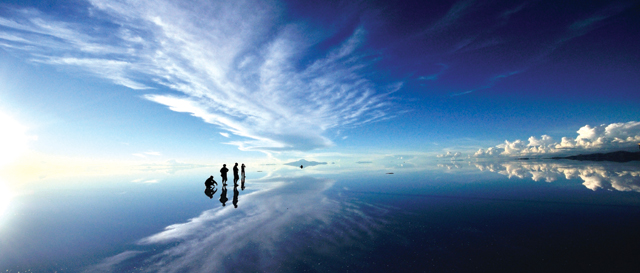 Oruro CarnivalOnce a year, the sleepy highland town of Oruro transforms into the country's party capital for almost a week of non-stop celebrations. Dating back more than 200 years, one of Latin America's most colourful carnivals mixes pre-Colombian tradition with Spanish Catholic influence. Hundreds of thousands of dancers and musicians clad in extravagant costumes take to the streets to enact stories and morality plays that delve into Bolivia's turbulent past.Listed by Unesco as a Masterpiece of the Oral and Intangible Heritage of Humanity, it begins with an opening parade that can last up to 20 hours. Its centrepiece is the dramatic La Diablada, or the Dance of the Devils, and it ends on the Monday after Ash Wednesday with the Dia del Agua, the Day of Water, an enormous water-bomb fight.
AdventureBolivia has no shortage of adrenaline-inducing activities for thrill-seekers. Career down 'Death Road', aka the world's most dangerous road, on two wheels from the icy La Cumbre Pass near La Paz to tropical Coroico in the steamy Yungus region; soar high above La Paz's verdant valleys by paraglider; ski down the vertiginous slopes at Latin America's highest ski station; scale vertigo-inducing, glacier-topped Andean peaks 6,000 metres above sea level; and bounce across the arid Altiplano in a 4x4. Less risky, but no less fascinating, is the descent into the claustrophobic silver mines of the Cerro Rico mountain near the colonial city of Potosi; exploring Sajama, Bolivia's oldest national park with its breathtaking high-altitude scenery, the country's tallest volcano and ancient mummified remains; and discovering the wildlife-rich jungle of the Bolivian Amazon.
Expert ViewBordered by Peru, Argentina, Brazil, Chile and Paraguay, landlocked Bolivia delivers a mix of outstanding natural beauty – its extreme geography ranges from steamy jungle to arid desert, the world's highest navigable lake and snow-capped Andean peaks – and a fascinating and highly visible indigenous culture.Off the well-worn tourist path, the country's isolation has helped preserve many of its ancient beliefs and traditions, and it gives visitors a real sense of a how a fast-disappearing way of life can co-exist with a modern urban landscape.The remote location can make Bolivia expensive to reach, but the determined traveller will be well rewarded. Once there, your money goes a long way, with incredible food costing a fraction of what it does at home.
Gourmet La PazThe high-altitude capital La Paz made an unlikely gastronomic hotspot until Noma co-founder Claus Meyer opened Gustu – part gourmet restaurant, part philanthropic project – in 2013. Now La Paz's foodie scene is flourishing. Bolivia's got no shortage of raw ingredients and Gustu's menu is all Bolivian, from llama tartare to Amazonian catfish and caramalised chuño – a freeze-dried potato from the Altiplano. The country even has its own wine route in the mild climate of Tarija close to the Argentine border, where wine has been produced since the 17th century. Sample it in Gustu's new lounge bar as you snack on sophisticated street food such as mini salteñas, the Bolivian take on empanadas, and the pork-stuffed sandwich de chola. Or pull up a stool at its ground-breaking bar, the first dedicated to the national tipple Singani. This one-of-a-kind spirit – distilled from aromatic Muscat of Alexandria grapes – is traditionally drunk with ginger ale and lime in a chuflay; here it's mixed, muddled and macerated into creative cocktails. An increasing number of craft beers, like El Salar, are also brewed from the Incan superfood quinoa; and the country's first premium vodka, 1825, is triple-distilled using pure mountain water, while Gin La Republica is infused with a bespoke blend of Andean botanicals. Naturally, there's organic coffee for the morning after.
Sample packageHighLives Travel offers a 13-day tour of the highlights of Bolivia, including Sucre, Potosi and Lake Titicaca, from £2,100 per person. The price is based on two sharing a double room on a B&B basis and includes land transfers and a guide, but not international or domestic flights. highlives.co.ukAir Europa flies to Bolivia four times a week from Madrid, with fares from £800. Aireuropa.co.uk