Greece: Honeymoon heaven
Greece | September 30, 2016
Where does a travel editor go for the most important holiday of all? Rupert Murray entrusts Santorini and Mykonos to provide a blissful start to married life.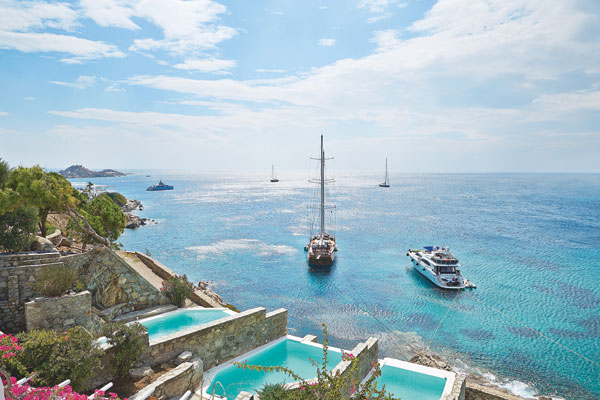 Where does a travel editor go for the most important holiday of all? Rupert Murray entrusts Santorini and Mykonos to provide a blissful start to married life.
You'd think the easiest part of getting married for a luxury travel editor would be the honeymoon. Yet people expect to hear something extraordinary: a space flight followed by champagne on the moon before ziplining down to dive in the Great Barrier Reef, perhaps. Something like that. But Greece is much better. So who needs the moon?
Santorini and Mykonos have gone the way of the horse and carriage and love and marriage in terms of going together rather nicely. On honeymoon, after an undoubtedly tiring few weeks and a whole lot of nervous excitement, hotel choices become more important than ever. So if your clients want their first holiday living sin-free to be on these two incredible islands, these are four of the finest hotels to consider.
Mykonos Blu, Grecotel Hotels & Resorts
Famed for the blue donkeys that loiter around reception, this hotel on Psarou beach is literally the place to stay on an island that is the island to stay on. This is Top Gun territory: the best of the best. Go anywhere else for lunch, supper or a beverage and, when asked where you're staying, simply toss the keys on the table: they'll know you're a big deal. Or just reply with your voice if you prefer. Either way they'll tell you it's a nice hotel. And you'll tell them you know because you live there.
White is a very popular colour here and indeed in many places across the two islands. Box-fresh trainer white, a white that washing powders promise but can't possibly deliver. Coupled with the bright blue sea and the, perhaps even brighter, blue private plunge pool, you have a honeymoon-worthy setting and, if not for my polaried green classic G-15 Rayban lenses, a potentially damaging few days for the retina.
There is a huge range of rooms from €175 a night but we weren't in anything like entry-level accommodation. Our suite was big, breezy and beautiful, with just the right levels of pimp. The terrace with infinity pool is obviously where we spent the majority of our time. The view across the bay filled with a scattering of mega‑yachts, the beach and the sea.
Up a couple of stairs was the terraced main pool – perfect for tanned super‑cool folk to stand and loll around, but equally suitable for me to bomb into. Below, the private bit of Blu sand with deckchair service that takes the faff out of beach-going. Towels, cocktails, cold compresses all come to you. The only thing missing is a person to carry you from sun lounger to sea and back again to avoid sandy toes.
Deep in our honeydaze, we hadn't realised quite how momentous this beach is. Our short stroll in search of a battered old taverna for some tzatziki/souvlaki action saw us mosey into a restaurant, take a seat and wait for an old Greek man to pop over. He never came. Instead, a woman in a skintight black jumpsuit and a Madonna microphone cat-walked over and asked if we had a reservation. I think she knew we didn't but, after holding her earpiece a bit and whispering, she let us stay anyway. We had walked into Nammos, one of the most famous beach restaurants/clubs/party spots in Europe. We didn't order the €150,000 champagne. After lunch the tunes start pumping (I believe that's what cool tunes do) and back safe on our Blu terrace we could enjoy the sounds while snoozing with legs dangling in our little private infinity pool.
Most of our eating took place in the hotel. Aegean Poets is big-time Mediterranean with clean and fresh flavours at the breakfast buffet, and à la carte Greek and seafood specialities for lunch and supper. L'Archipel is for lunch by the pool, and if you want to spend more time with the donkeys the Delos Lounge rooftop bar is exactly where you'd expect to find it.
Down the hill, a five-minute walk away, there's another great beach called Platis Gialos. You can spend all day here but we were too content at Blu to make it till the evening. Suggest your clients go to Avli tou Thoridi for delicious Greek food and extraordinarily friendly service.
You should book a car for clients on both islands – and make sure it's a diddy one. A lot of the best roads are tight and the occasional Range Rover invariably causes a traffic jam.
On our way north and west to Grace Mykonos, we took what looked like massive detours on the big map but actually it's a little island at 32 square miles. Alemagou on Tarsanas beach in Ftelia is officially the coolest place I've ever been. A sandy, bumpy track takes you to an unofficial car park above a slim bay with big loungers and a restaurant set back. A DJ does what DJs do, a bikini-clad hostess delivers you to a lounger that looks like it belongs on a Sunseeker, and F&B flows.
And at sunset we took another big detour south towards Paraga beach in search of Skorpios. The sensible part of my brain wants to tell you it's an upmarket beachy/restaurant/DJ/sunset/drinky place, but so astonishing was the welcome the sensible details are pointless. We walked in to find two DJs sitting cross-legged on a big rock in the centre of a mini seaside amphitheatre in turbans and togas with Macbook Airs in front of them, and a gong alongside. A man wearing a feather on his head in a non-ironic fashion seemed to be chief host. The website explains it best: "Genuflecting to the communal wisdom of our distant ancestors while exploring classical antiquity, we take it upon ourselves and invite our guests to reinvent the ancient sociocultural concept of Agora." I don't really know what I can add. Don't tell clients to avoid it, it's hilarious and beautiful. But prepare them for comedic levels of pretentiousness. mykonosblu.com
Grace Mykonos
Grace is slowly becoming a powerhouse of a boutique hotel chain. Grace Santorini is the poster boy and Grace Mykonos the hardworking, very pleasant, but not quite as handsome sibling. This is reflected in the lead-in prices: Mykonos €256 and Santorini €770. The Mykonos one overlooks the beach at Agios Stefanos which is a far more classic Greek beach than those by Mykonos Blu. And it was on this stretch of sand we finally found the old Greek man serving the tzatziki and souvlaki of our childhood holidays.
The hotel is suitably understated too, with a little chilled reception, a small art gallery, a teeny spa and a pool/restaurant area serving some of the best food we had. The pool is pleasingly deep given the lack of luxury pools in the world for people who like to fetch things from the bottom, à la primary school swimming lessons. And the views from sun loungers less-polished but no less enjoyable than those at Blu.
Grace offers a Bespoke by Grace service that allows guests to choose things like pillows and scents before they go. These touches really add to the feeling‑special experience vital when creating a honeymoon. We also found some very lovely his and hers personalised dressing gowns. Thanks very much.
There are 32 rooms and there's a very clear hierarchy. Lower down the levels are cosy rooms with little balconies, close to the road: perfect for guests who see their room as simply somewhere very comfortable to lay their head. If you have a Just Married couple on your hands, pop them in a suite higher up. They're much bigger, quieter, have better views, and the highest-grade suites have extras such as whirlpool tubs, plunge pools or hydromassage showers.
Mykonos Grace is perfectly placed for popping into the glitzy boutique shop explosion that is the waterside Mykonos Town. And when it's time to switch island, the ferry terminal is two minutes away; the trip from perfect island to another perfect island is two and a half hours.
Grace Santorini
A short drive from the imposing cliff-face ferry terminal, a happy chap in Grace uniform met us in a little square. He looked a little pleased with himself, as if he knew something we didn't. He heaved our bags onto his shoulders and asked us to follow. Follow we did down a little path and round to the Elysian Fields entrance of our next hotel. Now we knew why he was a little smug – he clearly enjoyed our open mouths.
There's not a lot you can do to avoid blaspheming as you walk down to the reception balcony. You've probably seen what we could see on Instagram or in countless magazines. This view and this hotel is all over the place in the world of hot lists, 10 of the bests and bloody nice hotel round-ups. It is, without question, one of the most iconic places to stay on the planet. And that's not a word we often use in Aspire.
It sits high in the hills of Imerovigli, a 20-minute walk along the caldera edge from the capital Fira. The scene from our lofty perch is a steepish cliff face at the top of which a giant has, at some stage, stood with a massive bag full of plunge pools and white sugar-cube houses before emptying them out, peppering the face with holiday heaven. Straight ahead the caldera swoops around you with the plug of Skaros centre-stage and its Venetian castle ruins on top. You can walk to the top, apparently: we never made it. Oia is the most famous town on this island but this is the best. The sunsets, watched from the comfort of our little plunge pool, are officially unrivalled.
Someone had the unenviable task of making the hotel better this year which must have created a fair few sleepless nights. But they've done it and done it well. There's a new champagne lounge that makes full use of the views, a yoga and pilates studio alongside a high‑tech gym, and even the food has had an upgrade. Most importantly, though, the new-look rooms are tippity-top. Still simple, still relaxed, but now as contemporary as a new-born baby. Bespoke pieces of furniture, bathrooms with marble-cased basins, spacious rain showers, a few handcrafted pieces dotted around, and with beds positioned to capitalise on the hotel's greatest asset – outside the window. The room was among the most practical and usable I've stayed in on top of its obvious supercalifragilisticexpialiamazingness.
Every room makes the honeymoon grade, but The Villa is extraordinarily extraordinary. If there's a better 'room' on the island I'll eat my recently purchased top hat. And the main pool (infinity, naturally) is the biggest around of its type – you don't tend to get enormous pools here as it's just not feasible when you're building on the side of a cliff. gracehotels.com
Chromata Up-style Hotel, Santorini
We walked just five minutes from Grace to reach this little Leading Hotels of the World beauty. Following Grace is like being asked to sing after Andrea Bocelli, so I felt for it before we arrived. But then they pulled a Pavarotti out of the bag and stuck us in the €1,785 per night Chromata Suite. It's essentially an enormous network of white caves, with a whole section for the futuristic-looking bath, one for your clothes, another for the hot tub (we used it as a cold tub as it was 35 degrees outside), another for the shower and sinks, and then a bedroom that made the king-sized bed look like a Borrowers bassinet.
Having reached optimum relaxation state, our big terrace, complete with double sun lounger and table, became home. We sunned, snoozed, drank, played cards, read, and ate there. The hotel will bring everything to you if you ask, so we did ask and it did come and we did do a little dance every time it arrived. Delicious, regional and inventive Mediterranean food from the restaurant just below us, a 15-second walk away, continued the theme of the food we found throughout the two islands. Other countries are more famed for their food but on this evidence Greece deserves just as many accolades.
Where Grace is all clean lines, space, and serenity, the pool area here feels a bit more sociable. It flows lengthways towards the caldera which makes the deep end very popular indeed. And the shallow end is actually inside the three-walled semi-circular restaurant. Sounds odd but it's actually rather fun.
This hotel is the one where we ended up doing the least. Wake, eat, snooze, read, swim, massage, eat, swim, snooze, repeat. During the day, even in June, it is baking hot so we waited till nightfall to walk the coast or drive around. It's another small island, another where I'd recommend a little car. Every guidebook will tell you to head to Oia to walk the famous town and while it is certainly beautiful it is inevitably far busier than little Imerovigli.
These two islands and these four hotels managed to make us feel like we'd just been on the greatest holiday of our lives. And that's the job with this particular trip, of course. If you need your clients to come back feeling honeymazing, irrespective of how loaded and luxurious their lives already are, Santorini and Mykonos can do the job for you. chromata-santorini.com
---
Expert view: Gabriella Cowley, Europe product and marketing manager, ITC Luxury Travel Group
Mykonos and Santorini are particularly popular with honeymooners simply because they're so beautiful. The main resorts welcome guests between late April/early May through to October, fitting in with the seasonal flight timetables of the low-cost carriers. During the summer season, clients can fly direct from London, Manchester and Newcastle to one or both of the islands, which work well as a twin-centre or standalone destinations. Teaming up Grace Mykonos and Grace Santorini is a popular option: both hotels offer romance packages and honeymoon suites with fantastic views and stylish surroundings.
Honeymooners will also find plenty beyond the hotels. In Mykonos, Delos Island makes for a great day trip. Newlyweds can enjoy a picnic on a pristine beach before returning to explore the famous Mykonos windmills and Little Venice, which is renowned for its buzzing nightlife. In Santorini, recommend a visit to the volcanic rocks and hot springs by boat; or the ancient site of Akrotiri and the soaring lava cliffs of Red beach in the south.
---
Santorini highlights - Lauren Ross, Product and commercial manager for europe at Simply Luxury by Travel 2
1. Float: Enjoy a boat trip to Santorini's volcano and hot springs: explore the volcano, take in the views of the caldera and swim in the sulphurous springs
2. Dine: For those wanting to see the caldera without exploring the volcano, see several bays and have a local meal on a sunset dinner cruise from Fira
3. Walk: Be sure to walk around the cobbled streets of Fira and browse the boutique shops followed by dinner in one of Fira's spectacular restaurants
---
Car hire
Go small and go reliable. These two companies were on time and the cars pristine.
Mykonos: Quattro Rent a Car, Mikonos 846 00Tel: +30 22 8902 2675Email: Quattro@otenet.gr Web: mykonos-rent-a-car.gr
Santorini: Kosmos Rent A Car, Fira 84700Tel: +30 22 8602 5225Email: drivein@otenet.gr Web: kosmos-santorini.gr