Feature: Water Wonders
Maldives | March 09, 2012
Forty years ago, a group of adventure-seeking Italians were hosted by some opportunistic Maldivians.
Forty years ago, a group of adventure-seeking Italians were hosted by some opportunistic Maldivians. Both parties believed this unique cluster of Indian Ocean islands might just have more to offer than fishing. They were right.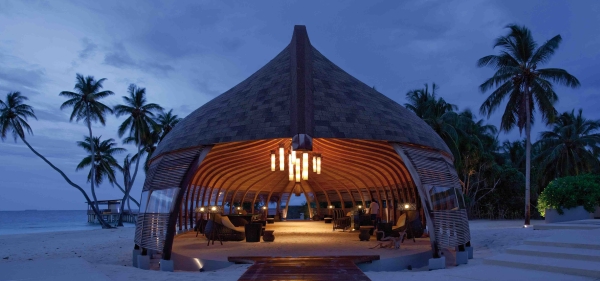 When the first shacks were erected on Kurumba Island the folk responsible cannot possibly have imagined what they had set in motion.The travel industry at large considered it an interesting but probably pointless exercise that would fail to gather momentum on any significant scale.They were wrong.
As the Maldives enjoys its 40th year of welcoming holidaymakers, Kurumba has 102 younger sisters. And by the time you've finished this piece another extraordinary sand sibling will probably have opened. Of the 1,190 islands that make up the Italy-sized archipelago, there are now almost as many that welcome paying customers as there are being lived on. And the rush shows no sign of abating, especially with the extraordinary interest shown by the Chinese market.
Many of the big boys – Jumeirah, Four Seasons, Hilton, Park Hyatt, Banyan Tree, W and Mandarin Oriental – have set up shop and, despite constant debate about when the destination may sink (50 years' time is a popular assertion), investment, tourists and increasingly extraordinary island concepts are the only floods evident.
The beauty of the Maldives is that every untouched island is a blank canvas. Such is the speed and volume of ideas that new concepts such as underwater restaurants (Conrad Rangali and Anantara Kihevah), discos (Niyama) and spas (Huvafen Fushi) already seem old hat. The excitement that once surrounded the limitless budgets and imaginations of the architects of Dubai is evident here and the only certainty is that incredible things will continue to appear.
Current rumours are of a Louis Vuitton island in the shape of a high heel, an Armani island and a booze-free dry island, not forgetting the terrifyingly named 'Blonde Island' that would employ only blonde workers (or blonde wig wearers). And proposals aren't limited to the islands. Development company Dutch Docklands plans to create floating hotels and a golf course in five lagoons.
In short, the Maldives is hot right now. Branson, Schumacher, Minogue, Federer – the list of high-profile guests is long.And a desire to be seen to be there is driving big brands to the party, so much so that one suspects the next few years will see it become a Kings Road-on-sea – a place where having real estate, profit-making or not, is considered highly desirable for luxury brands.
The Maldives tops the Aspire Travel Club league table in terms of bookings logged; visitor numbers rocketed by 19% in 2011; and the one-million visitor mountain looks likely to be scaled for the first time this year. Granted, the UK market has been a little flat. But one senses this is temporary as the Maldives topped the Kuoni Travel Trends survey of places people want to go for the seventh year in a row in 2012 and leads the list of desirable spots for honeymooners and digital natives – otherwise known as young people to you and I.
According to Simon Hawkins, managing director of the Maldives Marketing and PR Corporation, the two biggest misconceptions the destination faces are price and the potential to be bored. And they are misconceptions.
It is perfectly possible to spend thousands of pounds a night in top-end hotels such as the Anantara Kihavah Villas or Jumeirah Dhevanafushi, but affordable luxury for the mildly affluent is abundant. The destination does need to be careful, though. A recent rise in general sales tax on holidays from 3.5% to 6% (and possibly up to 10% in the not too distant future) is likely to impact on prices. No amount of tax will ever make the Maldives boring, though.
To condemn it as a dull place with nothing but sun, sea, sand and sex (I should clarify that the latter refers to honeymooners, rather than the defamed staff of spas, which the government recently and thankfully failed to ban) is a lazy statement that few who have visited the destination would make. The Angsana Velavaru, for example, boasts 101 things to do, including crab racing, stingray feeding and Padi diving courses.
More than anywhere, the key for agents is to select the right hotel (we've reviewed six: turn to pages 64 and 65). Given that 99% of the destination is underwater, it is here that the dominant appeal should and does lie, with extraordinary reefs and sea-life. The quality of reefs varies, so investigation is required, but many hotels employ on-site? marine biologists whose expertise turns a snorkel into a safari. The best reef I saw was while staying at Park Hyatt, which opened last year.
Some islands deliberately keep things as simple as it was for those Italians in 1972. But across the destination, spas are abundant, food options immense, land sports and activities rife and the ocean offers endless delight.
Expert TipsJane Price, product manager,
Western & Oriental Travel With four-star hotels ranging from £1,000 to £2,500 per person and five-star from £1,300 to infinity, it all depends on season. Low season, May to October, is the best-value time, as the weather is wetter but the temperature is a constant 30C, while Christmas to Easter is peak season. Most hotels offer free nights, early-booking discounts or free upgrades, especially to fill quieter periods. If clients want a lot of activities or choice of restaurants, look at larger resorts such as Lux Maldives or Soneva Fushi. Six Senses is known for its spa and rustic-style accommodation. For tiny, intimate islands, look at Baros or? Cocoa Island. The two Four Seasons resorts have their own surf schools, while Medhufushi Island Resort is ideal for a simpler beach lifestyle.
Getting ThereHow To Get to the Maldives and what you need to knowRupert flew with SriLankan Airlines from Heathrow to Malé International airport. The lead-in return price is £430 plus taxes. Having landed at Malé airport – located on its own stunning atoll about a mile from the city – visitors board a speedboat or seaplane to reach their hotel. This means the transfer can take anything from 10 minutes to several hours – something to bear in mind for families with small children.It is also important to know that seaplanes do not fly after dark (around 6pm), so late arrival at the airport could result in the need for an overnight stay in Malé.Don't be put off by the transfer: it is part of the adventure. And don't automatically point your clients towards the most accessible properties – selecting the right hotel is far more important.srilankan.com