Feature: On top of the world - doing Nepal in style
Nepal | November 17, 2010
Perhaps, in retrospect, we'd left a bit late.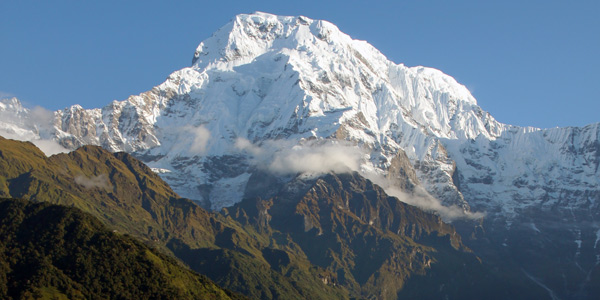 Perhaps, in retrospect, we'd left a bit late. Perhaps we'd stopped to take too many photos. Either way, with an hour's hiking to go before the relative sanctuary of Ghandruk it was getting dark pretty fast.
I turned to the guide: "Is this a problem?" He gave me the no-big-deal smile that, after a few days in Nepal, I was already adopting myself. "Torches," he said. And the intermittent thunder we'd been hearing – was that likely to come this way as night drew in? Another smile. "It might."
So we pressed on. Within 30 minutes we were hiking in the dark, and the rain was hammering off the thigh-searing stone steps that wind their way up the southern foothills of the Annapurna range.
The stuff travel fantasies are made of? Not right then. But the rewards were a different matter. The following morning, revived by a long sleep and several rounds of spicy masala tea, we went outside to see the 26,000ft-high Annapurna One and 23,000ft Fishtail Mountain reaching into a blistering blue sky, dwarfing the paddy-terraced valleys that had seemed quite high enough 10 hours earlier. We were face to face with the Himalayas for the first time, and it was staggering.
All that interrupted our view were Buddhist prayer flags – Hinduism dominates in Nepal, but the people in this region are largely Gurung, an ethnic group from Tibet – and slate roofs hung with drying maize. Bees floated from traditional wooden hives beneath the eaves. As we carefully negotiated the ever-present steps, Nepali children in full school uniform hurtled past us, throwing the catch-all greeting "Namaste" over their shoulders with huge grins; negotiating hillsides and welcoming strangers are imbibed with mothers' milk here.
Nepal is traditionally an adventure destination, and you'll still need spirit and energy if you want to get the most out of it – those hills don't climb themselves, and accommodation in the mountains is usually simple. But seeing this most spectacular of countries is no longer incompatible with enjoying a few creature comforts along the way.
There are upscale hotels to be found in big cities such as Kathmandu and Pokhara, and even out-and-out adventure operator Exodus runs a premium tour for those who love the scenery and excitement but aren't so keen on the sleeping bags and cold water.
Our tour began in chaotic, temple-strewn Kathmandu, the country's only gateway, reached by a 75-minute flight from Delhi's lavish new airport. Here, Dwarika's Hotel, featured by Bales Worldwide and Cox & Kings, is a case in point. Heavy wooden gates block out the capital's incessant buzz, and the buildings and immaculate courtyard within incorporate salvaged woodwork that dates, in some cases, back to the 13th century.
It's part five-star hotel, part cultural heritage project – rooms feature traditional fabrics, Buddhist emblems and excellent locally-sourced toiletries, while the flagship Krishnarpan restaurant serves refined versions of the curries, pickles, dals and dumplings you see in tea houses all over Nepal.
From Kathmandu we travelled northwest to adventure hub Pokhara to begin our trek; the journey can be made by air if you prefer to avoid Nepal's rather rugged road network. Pokhara is your last chance to be pampered until you come down from the mountains, so try the Shangri-La Village or the Fulbari Resort & Spa – both offer better-than-average accommodation, with a choice of dining and spa facilities.
Alternatively, Fish Tail Lodge offers the sought-after lake-and-mountain view rooms that Prince Charles chose when he visited Pokhara in the 1980s. The views of Fish Tail mountain reflected in Phewa lake are spectacular, even if the rooms themselves are comparatively basic.
After trekking we headed south, and just six hours after leaving Pokhara we were staring at a bathing rhino – albeit in the beam of a ranger's torch. This was Nepal's other big draw, Royal Chitwan National Park. As soon as dawn broke we clambered on to elephants and rode across the mist-shrouded Rapti river into the jungle, tracking more rhino and watching muntjac deer and greater spotted eagles.
Though Bengal tigers, of which the park boasts more than 100, refused to put in an appearance, we paddled past an equally fierce-looking marshmugger crocodile the following day, taking only slight comfort from the unruffled looks on the faces of our guides; since the Nepalese are virtually impossible to ruffle, it seemed to be no guarantee of safety. The day ended, as days there do, exchanging stories over tall, cold bottles of the local Everest beer.
As in the mountains, you should expect a slightly lower standard of accommodation in Chitwan, and many camps offer limited hot water. Nepal offers luxury for the eyes, not the body - that will get its turn back in Kathmandu. As you sink in a hot bath at Dwarika's, a few nights without absolute comfort will seem a small price to pay for what you've seen. I guarantee it.

When did you first visit Nepal? In January 1979. In those days Kathmandu was like stepping back in time. I fell in love with the country and have lost count of how many times I have returned.
What's been your best experience? Trekking towards Everest at the end of the monsoon. A week of cloud and rain thwarted our views, then one morning the mist cleared and the Nuptse Lhotse Ridge towered above us with the black triangle of Everest beyond. An unforgettable sight.
What tips would you give a first-time visitor? Go for a walk and explore the countryside; you will see a way of life totally different to ours. A good guide will act as interpreter and enrich the whole experience. Some find the poverty and bustle of Kathmandu hard to deal with, so take it easy the first couple of days.
What about the level of comfort? Nepal is not just for hardened mountain types. You can trek into the shadows of Annapurna or Everest while staying in lodges with en-suite bathrooms and plush dining rooms with full waiter service. Kathmandu has international-chain hotels alongside boutique Nepali styles, while Pokhara and Chitwan have some charming places overlooking the lake or jungle.
Ampersand?Travel's new helicopter tours include the chance to play two holes of golf at 14,500ft against the backdrop of Mount Everest as part of a four day tour costing £4,995.
Cox?& Kings has launched Champagne breakfasts in the foothills of Mount Everest this month.
TransIndus offers paragliding alongside birds of prey for £100 as an add-on to its £2,095 10-day Kathmandu Valley and Beyond tour.
Several hotels in Kathmandu are to be improved as the government's Nepal Tourism Year 2011 initiative gets under way. The four-star Hotel Himalaya is renovating all rooms with an eye on going five-star in January, while the five-star Radisson is to add 100 rooms.
Golfers may be surprised to find a championship course a stone's throw from Kathmandu. Designed by top architect David McLay Kidd, the 18 holes at Le Meridien-operated Gokarna Forest Golf Resort & Spa are set in a 500-year-old former royal hunting forest.
A pay-in lounge by Plaza Premium Lounges has opened at Delhi's Terminal 3, offering showers and spa treatments as well as business facilities. The domestic terminal also offers lounges for Air India passengers and Amex Platinum card holders.