Feature: India
British Indian Ocean Territory | February 24, 2011
Hippies have given way to luxury on India's western coast.
Hippies have given way to luxury on India's western coast. Mike Walsh reports from Goa and Kerala
Spices, spas and special touches – chilling out in southwest India now involves luxury hotels, historical sightseeing and serene tranquillity
Don't photograph her – she's washing." The guide motioned to me to lower my camera as we floated silently in a canoe through the placid Kerala backwaters.
It was too late. My finger had already hit the shutter. But there had been nothing furtive about my snap. The sari-wearing lady, cheerily lathering her arms, had held the camera's gaze and visibly lapped up the attention. Her laughter rolled across the water.
It was the sort of friendly greeting we became used to in this beautiful Indian state. The guide was right: people's privacy had to be respected. And yet their warmth and openness to tourists was genuine and endearing, and a sign perhaps of the relative prosperity of this part of India.
The Kerala backwaters are a 600-mile labyrinth of rivers, lakes and canals coursing between lush paddy fields and rural homes. Our canoe journey was a feast for nature lovers' eyes. We floated through green canopies of overhanging trees, and caught sight of cormorants, egrets and blue-feathered kingfishers.
The waters were as smooth as glass and all but deserted. Three boys walked beside our boat, gleefully catching a couple of pens we'd thrown for them. We passed a handful of bare-chested fishermen and women washing clothes. But over the course of two hours we saw no other tourists. India may be home to a billion people but here we were luxuriously far from the madding crowd. The peace and natural beauty was exhilarating.
A little later, our Kerala sightseeing tour brought us face to face with the arched eyebrows and expressive visage of a 70-year-old kathakali maestro. Kathakali is the 400-year-old classical Indian style of dance-drama in which stories are performed, mainly at Hindu temples and festivals, by actors using mime and expression but no speech. Tourists can meet this actor and his family in his own home and watch him demonstrate his expressive dexterity.
THE ZURI KUMARAKOM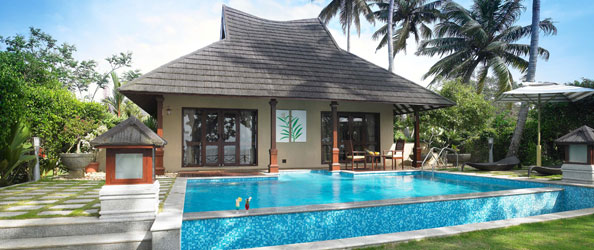 The day's gentle excursion was organised by our hotel, the five-star Zuri Kumarakom Resort & Spa. This 72-room villa property is part of the small but expanding Zuri Hotels company. Located on the very edge of Vembanad Lake, the hotel is a two-hour drive through the wonderfully scenic Kerala backwaters from Cochin airport – itself an 80-minute flight from Bangalore, the main gateway.
The hotel's foremost UK partner is Kuoni. Guests seeking top-of-the-range space, luxury and privacy should opt for one of the 10 Presidential Pool Villas. These boast one bedroom, two bathrooms, three showers, a large plunge pool with water jets, a patch of lawn and, immediately beyond that, a stunning view of the tranquil lake.
Once I'd decided which shower to use, it was simply a case of sitting on the patio and enjoying the almost total seclusion, my privacy broken only by an egret at the lake's edge. The fact that about 50% of guests are Indian helps the hotel retain an authentic atmosphere (review).
We enjoyed an even closer look at Vembanad Lake on a houseboat cruise. Formerly used to transport spices from the mountains, houseboats are exotic-looking barges with roofs made of bamboo poles and palm leaves. We supped tea and ate spicy snacks while taking in the idyllic view. GOING TO GOAThe other half of our Indian odyssey was spent up the coast in Goa. It made for an interesting two-centre trip, although access from Kerala requires a flight to Bangalore plus another to Goa. To break up the trip, recommend clients stay at the Zuri Whitefield Bangalore, a smart business property with restaurants, nightclub and a spa.
In Goa, the hippies, it seems, have all but gone. Legendary hippy Eight-finger Eddie, who popularised the resort as a chill-out haven in the 1960s, died last year, but his spirit of relaxation lives on.
The easygoing charm of the Goans was evident in Old Goa, the former Portuguese capital in India, home to 13 churches and now a Unesco World Heritage? Site. We visited on the day of a? festival and it was odd to see so many Indians queueing up as devout Catholics.
From there we headed to a spice plantation. After an informative tour, we stocked up on cut-price nutmeg, ginger, allspice, cardamom, clove, chilli and a spice rack's worth of other fresh ingredients.
Soon it was time to head back to our second Zuri hotel, the Zuri White Sands Resort. This spacious 38-acre property is beautifully landscaped. At its heart is a huge meandering swimming pool, while the front lawn hugs the wide sandy Varca beach. With a spa, shops, sports centre, casino and bar, this is a slightly more lively hotel than the Zuri Kumarakom, but with the emphasis still on couples and relaxation.
For those seeking an adrenaline rush, the hotel offers several water sports. I tried parasailing, soaring effortlessly above the coast, before jumping on a jetski and thrilling at the turn of the throttle.
The Zuri White Sands' sister property is Zuri The Retreat, just a few hundred yards inland. Designed in the style of a Portuguese village, it offers slightly cheaper rates as well as an excellent spa. The quality and service of these hotels complement the beauty and history of Goa.
I suspect Eight-finger Eddie might have been perplexed by such luxury – but I doubt your clients would be.
Kuoni offers seven nights in India, including three nights at the Zuri White Sands in Goa, three nights at the Zuri Kumarakom in Kerala and one night at the Zuri Whitefield Bangalore, from £1,565 based on two sharing. The rate includes British Airways flights from Heathrow to Bangalore, private transfers in resort and airport lounge in the UK.