Feature: Fit for a Rex
July 01, 2015
The battle for the hound pound is seeing some of the smartest hotels in the world invest in canine concierges and organic, bone-shaped treats.
The battle for the hound pound is seeing some of the smartest hotels in the world invest in canine concierges and organic, bone-shaped treats. The dog days are over. For dogs.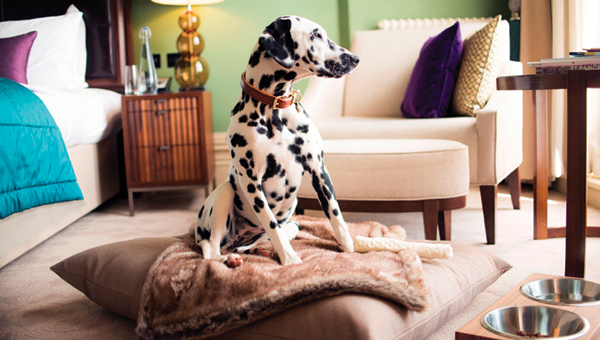 For huge numbers of holidaymakers the term VIP has had a four-legged makeover.Person has become Pooch. Sellers of family holidays have long known that if the children are happy the parents tend to be too. It seems this mantra needs to be extended to parents of fluffy children now.
Small Luxury Hotels of the World asked 8,000 people what they would like hotels to provide for their pets. A water bowl and some food? No no. Try these:
• Pata negra ham • Caviar • Blueberry facials • A sausage-dog girlfriend • Luxury bedding • A personal butler
Blueberry facials may have you raising an eyebrow, but don't. This treatment is apparently the best way to remove stains from a dog's face. Caviar stains, perhaps. It's real. And not only is it real it's even on offer in no-nonsense Yorkshire at The Raithwaite Estate in Whitby. This hotel also has a dog spa. Yes, a spa – for dogs.
Naturally, things like caviar and a sausage-dog girlfriend are headline requests from dog owners, but the overall stats are compelling: more than 7% like to travel with their pet whenever possible and more than 15% are willing to pay a supplement. That's about one in every six of the dog-owning population.
Of the extras people want for their pooches' bedding, food and grooming are the most important, so it turns out our pets want pretty much the same things we do.
And the demand for travel with pets is growing fast. Holidaylettings.co.uk saw a 71% increase in searches for dog-friendly properties in the first quarter of this year.
Hoseasons has seen an 11% average yearly rise in the number of bookings made with pets over the past four years, with more than 53,000 pets holidaying with them last year. More than 25% of its land accommodation is dog-friendly and more than nine out of every 10 of its boats.
Tariq Khan, head of trade sales at Hoseasons, says: "Man's best friend is very much part of the family. That's why during March and April we ran our Pets Go Free promotion, which allows dog owners to take their four-legged friends away with them free."
Gracia Amico, chief executive of pet travel company PetsPyjamas, says: "You can't call it a niche any more as it's growing so fast. If hotels open themselves to the 'hound pound' they can increase revenue by 30%. Travel is just one element of what we do but, although we launched it only last year, it has gone crazy and taken over from every other revenue to be our main source."
PetsPyjamas has even created awards for pet-loving hotels to recognise those that do the most to please guests' pets.
The top prize of best overall pet-friendly establishment went to the Old Swan & Minster Mill in Oxfordshire. And Four Seasons Hotel Hampshire won top resident dog, which allows me to print that great picture of Oliver opposite.
These awards aren't easy to come by. To give you an idea of how dog-friendly a hotel needs to be, the Old Swan & Minster Mill has three dog experiences: Canine Traveller Experience, Country Escape with Paws, and its new Canine Country Etiquette classes. A belly rub and a bowl of water no longer cuts the mustard.
Walkies around the world
And the opportunity is not just for domestic holidays. Amico says Eurotunnel is a major partner for PetsPyjamas, with many customers already taking their pets on the train.
Taking a pooch on a plane is also perfectly possible, but it does take some organising – all the more reason for dog owners to use an agent.
Stephanie Uhlig, UK managing director at eDreams, says: "Booking a pet on a flight takes a lot of organisation when it comes to the bookable timeframe, paperwork and conditions of carriage, which can often create more travel-related stress for passengers."
If your client has a passport and their pet has a pet passport, there are hotels across the world geared up to ensure dogs have a good time.
Hotel D'Inghilterra in Rome, in the heart of the historic and fashion districts, encourages owners to bring their dogs. The concierge can provide detailed information on the location of dog spas, city maps of where dogs can go off the lead, tourist sites that permit dogs, plus details of dog sitting and walking services, dog grooming, a dog limousine service and a dogs' room service menu.
Corinthia Palace Hotel & Spa in Malta has doggie check-in, in-room facilities including bowls, a bed, treats and toys, a doggie room service menu with a range of fresh foods available that are all cooked by the hotel's chefs, dog walking and sitting facilities, dog massages and grooming, and an area of the garden in which dogs can run off the lead. And the hotel is next door to a great dog walking spot, San Anton Gardens.
If your client wants some mountain air, The Alpina Gstaad, which has a Six Senses spa and a Megu restaurant for humans, gives dogs their own coat and offers a walkies service.
And in Italy, Hotel Cristallo in Cortina d'Ampezzo has a VIP programme that sees dogs get a welcome card, a mat and water bowl in the room, a goodnight cookie and a free shampooing as a leaving present.
Canine delights
In case your client asks what sorts of things are on room service menus for dogs, The Little Nell in Aspen sent us theirs. It includes:• Local Ground Beef• Grilled Chicken Breast• Grilled Salmon
The menu is part of the hotel's Petiquette programme. All meals include carrots, brown rice and scrambled eggs.Dogs can even immerse themselves in the local cuisine. In Cancun, Mexico, the Nizuc (dog's nose in Mayan) Resort & Spa has a burrito on its dogs' menu made of egg, chicken sausage and cheese in a corn tortilla.
Come to heelWe all know a 'dog person'. You may even be one yourself. The number of people who want their dogs in their holiday photos is almost certainly vast. So becoming an expert is something to consider.
I'll leave you with the words of Carol Hooper, chef concierge at The Little Nell. Because she will leave you in no doubt as to how VI the new breed of VIPs are."Our valued dog guests enjoy the pleasure of custom-sized dog beds shaped to meet their individual needs for utmost comfort," says Hooper."Our canine menu is filled with epicurean treats to keep them fit and trim so they can hike, walk and run the hills of Aspen. "Why should our guests leave behind their beloved furry friends?? They deserve to enjoy a family vacation and bring home treasured memories. And if your dog needs to adjust to the altitude upon arrival, we have a puppy jet-lag kit sure to fix the problem. "Finally, your dog will leave Aspen with their own Little Nell dog leash that's sure to make them the envy of the neighbourhood."
ASPIRE MEETS...Gracia Amico, chief executive,?Pets PyjamasWe started selling accessories to pet-loving people. The idea was to supply lovely trips in the UK and abroad and to be a marketing department for a lot of smaller hotels that would not know how to get in front of these people. This was a gap in the market that people hadn't thought about. It's especially popular with older people whose kids have left home and who now have a dog, and with people who have a family but want a dog for their kids. The dog is an integral part of the family now.I know first-hand how difficult it was to find places where dogs were not just allowed but really welcome.I've been to places – and driven for hours to get there – where they say they are dog friendly but then they offer the boiler room for the dog to sleep in.But most hotels are dog-loving already. National holidays and long weekends are growing in popularity as times to go away and these short trips lend themselves to breaks with the dog. When there's a bed and a treat box with the dog's name and face on it it adds to the experience in a way traditional travel can't. It delights people and creates emotional connections.At the beginning we struggled to get hotels. Now they are coming to us and want to be on our books. We have a database of 50,000 people with pets.
FLYING WITH PETS
Tips from Stephanie Uhlig, UK managing director, edreams
1.?Book early: Some airlines require up to 14 days' notice to arrange the flying with pets service. 2. Check blackout dates: There are specific days when flying with pets isn't permitted. For example, some airlines don't offer this service on weekends. There are also restrictions on certain routes which could make it hard for you to fly at the same time as your pet.3. Check restrictions: Make sure your pet is allowed to use this service as some animals are excluded. Airlines' lists of accepted pets vary — some permit only dogs and cats, others allow more exotic animals such as rodents, birds, turtles and even fish.4. Don't sedate your pet: It is prohibited to sedate pets for health and safety reasons, and airlines will most likely refuse to carry your pet if under any form of sedation. It is also advisable not to feed your pet up to five hours prior to check-in.5. Budget: Although it can cost as little as £20, flying with pets can set you back up to £150, so do consider the fees involved before considering this service.
Fast facts• Guide and assistance dogs are an exception and are allowed on all aircraft, free of charge.• Pets travel in the aircraft's hold, which is safe and secure. It's a temperature-controlled environment and the darkness is proven to calm animals.• Some airlines allow pets to fly in the cabin on selected flights and routes, including British Airways' OpenSkies, non-stop service between Paris and New York.
?