Feature: Big Beasts
Botswana | September 23, 2015
Sharing is good, or so we're told as children.
Sharing is good, or so we're told as children. But this won't wash on a luxury safari, when clients want sightings all to themselves. Botswana's network of private concessions offers exclusive access, alongside plentiful game and some of the most luxurious safari lodges in the world.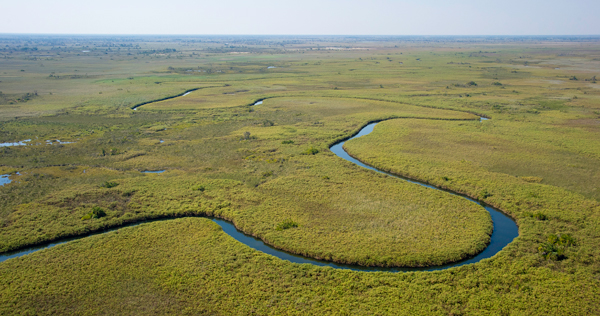 First of all, it's just the four of us. Me, my husband, our guide, and the dead impala hanging from the tree. We'd seen the leopard drag her kill up there for safe-keeping the night before, unceremoniously draping what was left of its legs over branches to keep it suspended. But returning in the lilac light of a Botswana morning, all seems silent and still. She must have gone to the waterhole for a drink.
Which just shows how quiet leopards are when they want to be. There's no warning; one moment, nothing; the next, the leopard has sprung from the undergrowth into the tree. I start in shock, barely managing to keep a firm grip on my camera. Within seconds, the impala has been dragged to the ground and the leopard is tearing into it with her incisors, ripping shreds of flesh and crunching bone, drowning out the clicking sound of my shutter with her ferocity.
But in among the other noises, a different sound. Beginning just at the edges of audibility, but growing louder and louder, until there's no mistaking it – growling."This is the wrong leopard," says Cruise, our guide at Tubu Tree camp in the Okavango Delta. The leopard now feasting on impala is not, he explains, the leopard which caught the impala. And the growling? That's coming from the original leopard. The impala thief can hear it too and, caught red-pawed, slinks away through the bushes, just as the rightful owner bursts on to the scene.
Evidently extremely unhappy, she wastes no time. Grabbing the impala by its neck, she begins to drag it away. Bearing in mind a full-grown impala isn't much slighter than a leopard, this isn't an easy business. Its legs are dragging on the floor and tangling with hers, and at one point the neck gives way and the head falls off, but still she perseveres, dragging it nearly a mile through the scrub to a different tree. I think it's safe to say that leopards don't enjoy sharing.
And in this, they bear a striking similarity to patrons of luxury safari camps. These high-net-worth big beasts have no interest in sharing their game sightings with trails of other vehicles. Having someone else's irritatingly large sunhat obscuring the view through their zoom lens, or the hubbub of a neighbouring jeep scaring off a rare bird, is simply unacceptable. And this is one of the reasons why so many of them choose to safari in Botswana.
PRIVATE MOMENTS
Across Africa, safari areas can be divided into two broad types: national parks and private reserves. The former are open to any members of the public, and thus controlling visitor numbers is tricky. In the latter, only those permitted by the owners or operators have access, and this is usually limited to the guests staying in the lodges and camps within the boundaries. Visitor numbers will never exceed the number of beds, so overcrowding is virtually impossible.Rather than trying to pull in large numbers, Botswana has chosen a strategy of low-volume, high-spend safari tourism. Private concessions are particularly common here.
It's not just possible but easy to organise circuits of the country, hopping from private concession to private concession, and staying in some of the most luxurious camps and lodges in Africa in the process.
Wilderness Safaris, the operator of Tubu Tree, is a major player, with 19 camps across the Linyanti Reserve, the Central Kalahari and – the jewel in Botswana's crown – the Okavango Delta. It also operates Wilderness Air, the charter company that shuttles guests between camps, its small aircraft sometimes having to wait for game to vacate the dirt airstrips before they land.
FLYING VISITS
This is another factor that pushes up the price of Botswana safaris. Roads are poor and distances long, and – particularly in the waterlogged Delta – at some times of year camps are inaccessible by any other means than flight.
But the extra dollars are all worth it. These flights are not irritating delays to the start of the trip, or annoying transfers that punctuate an itinerary. They're part of the game-viewing experience, and a thrilling one at that.
Taking off from Maun, the tiny airport that provides a gateway to the Okavango Delta, we watch the landscape change, becoming wilder, flatter, wetter. Algae-covered swamps pitted with reeds start to resemble the rough, hairy hide of an elephant. The true scale reasserts itself when we spot a real elephant walking down one of the channels between the reeds, its trunk swinging. From the sky we see giraffes, their long necks peeking above the trees; herds of red lechwe antelope grazing, vivid against their green dinner; and hippos, scattered across the delta's pools like slow-moving pebbles.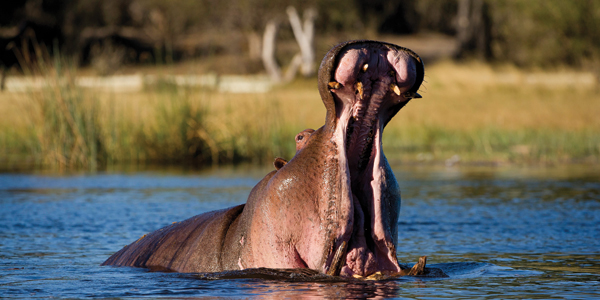 ANIMAL MAGIC
The sheer volume and variety of game makes Botswana a stand-out for safari. Every moment of our week-long trip was packed with outstanding sightings, from the leopard breakfast club at Tubu Tree Camp, which is famed for its leopards, right up to our final morning at DumaTau Camp, where we spent half an hour tracking two large male lions, who roared repeatedly, challenging another male who they could hear responding from across the river.
Fittingly, DumaTau means 'Lion's Roar' in Tsetswana, and our stay at this camp in Wilderness Safaris' Linyanti Concession, which borders the Chobe National Park in Botswana's north, brought us some truly rare creatures, from the elusive honey badger to wild dogs, which are on every repeat safari-goer's list. We saw the resident Zip pack three times – feasting on an impala they'd killed, making their trademark 'giggling' noises to one another in affection, and even jogging past two metres away from us as we stood, sundowner gins in hand, barely able to believe their proximity.
Located in the heart of the delta, our third camp, Vumbura Plains, was baby central during our visit. We saw a family of elephants playing in the water, splashing, trumpeting, and spraying water at mum. Lion cubs tumbled over one another and butted at their mothers' heads, the latter swiping them away with a lazy paw as they snoozed, bellies distended from a large meal of sable antelope, the carcass nearby. A family of hyenas rested in the shade, the littlest cub determined to gnaw the wheel of our jeep despite our guide's efforts to shoo him away – hyena's jaws are so strong there was a danger he might do real damage to the rubber. And as we were escorted by torchlight back to our room after dinner, the lamp lit up a hippo mother and tiny baby, waiting for us to pass so they could make their way to the water.
LUXURIOUS LODGES
The camps themselves manage to combine luxury with making you feel close to nature – but not uncomfortably so. All have similar attributes but feel different, like disparate siblings. Tubu Tree and DumaTau are Classic Camps – deluxe, spacious, and full of character. Vumbura Plains is one of Wilderness Safaris' Premier Camps, so the luxury style is swanky rather than rustic (see box, opposite). Camp accommodation ranges from tented structures to solid wooden lodges, but all offer incredible views over the landscapes from private decks.
Public areas always include a lounge, dining area, bar, and pool. Food is excellent, and almost constant, from a hearty pre-game drive breakfast to a vast brunch, daily afternoon tea, sundowners and then dinner. Rates at both Premier and Classic camps include accommodation, all meals, activities, drinks (except some brands) and even laundry.
The standard of service offered by Wilderness Safaris' guides beggars belief – they're not just experts on wildlife, but on the needs of safari tourists too. Woefully underdressed on our first game drive of the trip, we were handed warm ponchos almost before we started to shiver, and hot chocolate with Amarula was thrust into our hands as we arrived back to camp. The next morning, hot water bottles were left on our seats in the jeep to ward off the pre-sunrise chill.
If clients have special interests or requests, guides will move heaven and earth trying to comply. Towards the end of our final drive at Vumbura Plains, a guest mentioned they hadn't yet seen a cheetah. Our guide Ban merely nodded, and continued with the drive. But 15 minutes later there it was, just as requested, a cheetah, sitting sleepily under a tree. And, we had it all to ourselves. Our fellow guests were purring, rather than growling, as we headed back to camp.Find out more: wilderness-safaris.com
A CHOICE OF ACTIVITIES
Most guests are happy to take group game drives, sharing a jeep with one or two other couples. The seats on Wilderness Safaris' vehicles are tiered, so everyone gets a good view. However, for families or couple who want complete exclusivity, guests can pay for private drives.
And in Botswana, game drives are just one aspect of the safari experience. We also took a walking safari, spotting tiny insects, learning tracking techniques and getting a sense of the scale of the bush.
The Okavango Delta is the only place in the world offering mokoro safaris. Guides pole these traditional canoes through the shallow waters among white and purple lilies, pointing out skaters skimming over the surface, speckled eggs sitting on floating nests and tiny, camouflaged frogs clinging to the reeds. At Tubu Tree, we stopped on a deserted islet and one of the guides emerged in traditional bushman dress, performed traditional dances and songs, and showed us how to make a fire with sticks, and how to make a trap with thorns, twigs and grass.
To explore more of the delta's watery world, we whizzed out on a motorboat, spotting brightly coloured birds, before stopping for tea with hippos, who shared our pond for half an hour before showing they'd had enough of us by grunting, rearing out of the water and opening their jaws face-crackingly wide until we left.
Vumbura Plains - A Wilderness safaris lodge
Vumbura Plains is one of Wilderness Safaris' Premier Camps, and the level of luxury is breathtaking. The look is modern, all sleek, architectural lines, and the rooms incredibly spacious. Fourteen rooms are split across two satellite camps, each with its own lounge, dining and bar area, including a firepit surrounded by cosy cushions.
All areas, including rooms, are on raised decking, and the latter are spread out so you're not aware of your neighbours. The rooms are huge, with glazing on three sides, so you have views over the floodplain from your bed, the sunken seating area, and the open-plan indoor shower, as well as from your outdoor shower, sun deck and your own private plunge pool. (We awoke one night to snorkelling sounds and, taking the torch outside, found an elephant unapologetically drinking our pool water.)
As a Premier Camp, Vumbura is sleeker in looks than its Classic cousins, and dining is presented slightly differently. There's a larger choice of wines on offer, and lunch, as well as dinner, is à la carte. At dinner, tables are split so that couples can sit alone if they wish, rather than at communal tables – reflecting a preponderance of honeymooners and super-rich clients.