Feature: All aboard
Thailand | December 01, 2011
From the suburbs of Bangkok to issan and then on to laid-back chiang mai, chris coplans Travels in style across thailand on the Eastern & Oriental express.

From the suburbs of Bangkok to issan and then on to laid-back chiang mai, chris coplans Travels in style across thailand on the Eastern & Oriental express.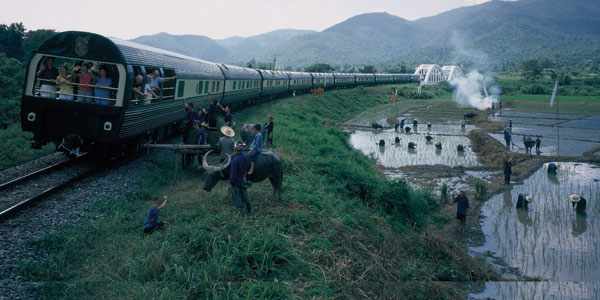 Eastern & Oriental's six-day Chronicles of Thailand tour envelops passengers in the lap of luxury, while affording them a bird's-eye-view of the surrounding countryside.
As I walked across the main concourse of Bangkok's frenetic Hua Lamphong station, I remembered my visit there many moons ago. Like many travellers on a limited budget, I took the overnight train to Chiang Mai, which cost just a few quid. Today would be different as I would be joining Eastern & Oriental's luxurious? Chronicles of Thailand six-day train adventure into the heart of Thailand.Guests are met on the platform by a troupe of traditional Thai dancers and musicians – you wouldn't find that on the 8.22am to London Waterloo. I was guided to my cabin by our car's attendant Pon, who, I would learn, possessed the uncanny knack of anticipating my every wish.? To my joy, my cabin was every bit as luxurious as I had dreamt, with lashings of teak, brass and the crispest of linens.The cabin was ample sized, the bed converted into a comfortable sofa, there were chairs and a small table, providing? essential space for a laptop and afternoon tea, adequate hanging space and a small, en-suite bathroom. The train departed, slowly chugging its way through the Bangkok suburbs and heading to one of Thailand's least-visited regions, Issan in the northeast.I've never understood quite why it is the least-visited region of Thailand. The region is more traditionally Thai than the popular regions in Thailand. The people are very friendly, the food is unique and, best of all, it has some of the most exquisite temples in Thailand. Two of these, Phimai and Phanom Rung, are on the tentative list for Unesco World Heritage status.We were fortunate to visit one of the Khmer dynasty's finest temples, the 12th century, Phanom Rung. Perched atop one of the few elevated locations in Issan, an extinct volcano, it boasts panoramic views of the surrounding Khorat Plateau. We climbed up steps worn down by centuries of visiting Buddhist pilgrims, to a promenade with views of the exquisite sandstone tower of the main temple, a labyrinth of sanctuaries and hidden chambers. Thanks to an exclusive opportunity for Eastern & Oriental guests, on the other day in Issan, we visited a typical Issan weaving village and at dusk we were treated to a visit to a small but impressive temple, Prasat Sikoraphum. E&O sprung a surprise party for the guests, complete with dancers, musicians, a pair of elephants and a feast of Issan cuisine timed to fit perfectly with an incredible sunset.
Dining in styleFrom Issan we retraced our train tracks before heading north for the overnight climb to Chiang Mai. Many guests gathered in the cocktail lounge to swap train stories before ending the day on the alfresco observation car as the train snaked its way up into the mountainous north. One of the highlights of the trip is the food. How chef Yannis Martineau managed to prepare such delicious food every evening for more than 60 guests in such a confined space is a mystery to me. There were a couple of formal evenings, which gave everyone the opportunity to dress to kill and after dinner most guests gravitated to the bar. One of the highlights was the pianist, who kept everyone entertained into the small hours.
Early risersIt's worth getting up early for the final push to Chiang Mai. The train hugs the mountainside and affords spectacular views into the valleys below. Chiang Mai is the laid-back cultural capital of the once powerful Lanna Kingdom and nowhere is this more apparent than the Old City. It's narrow streets and lanes are studded with fabulous Lanna-style temples, with their distinctive sweeping tiered roofs. Among the best are Wat Chedi Luang, Wat Chiang Man, and my favourite Wat Phra Singh. There are a number of group excursions available to guests in Chiang Mai and I would advise either the visit to the Elephant Camp or, better still, a visit to one of the north's most sacred temples Wat Suthep. It's a ravishing temple and has stupendous views of Chiang Mai in the valley below. Eastern & Oriental guests have a variety of exclusive tours to choose from with expert guides.From Chiang Mai, we headed south with one last major stop at the Khao Yai National Park. It contains one of the largest intact monsoon forests in Asia and is rightly a Unesco World Heritage Site. Deer, gibbons and macaques are regularly spotted and if you are really lucky, you might see a tiger, leopard or bear.
n Kuoni offers nine nights in Thailand staying three nights at the Mandarin Oriental in a superior room with breakfast and six nights' full-board on the Epic Thailand tour with Eastern & Oriental, including flights with Thai Airways, private transfers in resort and use of the airport lounge in the UK. Prices for 2012 start from £5,784 based on two sharing. KUONI.CO.UK