Editor's Pick: Belle Mont Farm
December 10, 2014
In each issue of the magazine, Rupert Murray explains what has impressed him recently in the world of upmarket travel.
In each issue of the magazine, Rupert Murray explains what has impressed him recently in the world of upmarket travel. This time, it's a new forward-thinking development in St Kitts.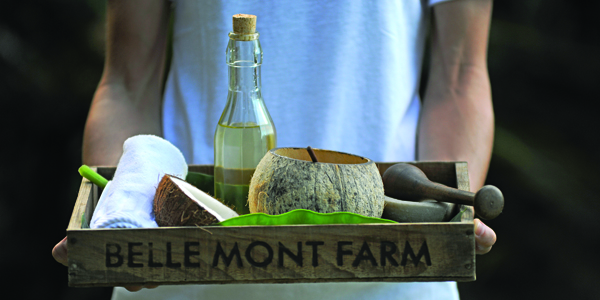 Surprisingly, being greeted at the airport by a former Miss St Kitts was the second-best thing about arriving on the island. Sorry, Johan.Number one was the car sitting on the runway that took me from the plane door to the Yu Lounge.
I sat on a comfy chair eating canapes and drinking Coca Cola (I think most people opt for champagne) while someone else sorted out immigration, collected my luggage and popped it in the back of Miss St Kitts' car.
Everyone staying at Belle Mont Farm, which welcomes its first guests on December 12, gets to use the Yu Lounge. I don't think the beauty-queen thing comes as standard.
Johan drove, I asked questions, as we headed towards my home for the night within Kittitian Hill – a hotel and real estate project covering 400 acres on Mount Liamuiga.I was jetlagged so thought I'd misheard her say the golf course is edible. But I hadn't. I pictured a Willy Wonka-style scenario with candy canes for flags and bunkers filled with chocolate.
Half an hour later we drove alongside the disappointingly normal-looking Irie Fields golf course. Apparently, though, it's far from normal. Golf courses are traditionally a satan of the eco world, ranking alongside faulty oil tankers and littering.
But this one is angelic in terms of water use, chemicals and the like, and to prove it you can eat anything growing on it.Organic cherry
The golf course is just the organic cherry on top of a development that could well be the one that historians point to later this century when explaining where and when sanity kicked in for tourism in the Caribbean.
Social entrepreneur Val Kempadoo came up with the idea. And if all goes as planned, Kittitian Hill will begin moving the economy towards self-sufficiency and net exportation, and also show the rest of the Caribbean a path towards a sustainable future. Currently, it imports almost everything, which needn't be the case.
St Kitts is an island of 40,000 people with fertile land that once had the highest number of plantations per square mile in the Caribbean when sugar was gold and labour was enforced. The last crop in what became an unprofitable industry was planted in 2006.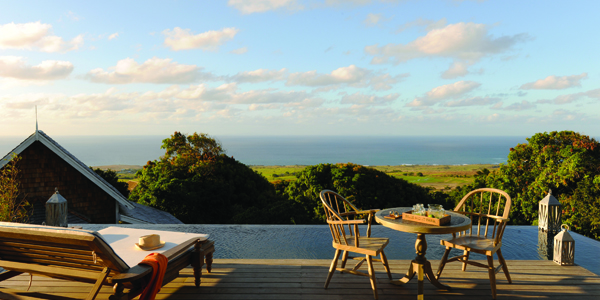 Nobody Learned
The lasting issue created by this focus on sugar was that nobody really learned how to grow food and, therefore, it's predominantly imported. So Val has built a farm, trained people to do the farming and is trying out scores of varieties of fruit and veg to see which grow best. He's inviting people into the farm to learn how to grow these things on their own land and teaching people useful skills like stone-work and carpentry.
Val is also turning people into entrepreneurs, businessmen, exporters and ultimately, I suppose, trying to realise the most simple of American dreams for St Kitts – to live off the fat of the land. All this but with an attractive capitalist façade in the form of high-end hotels and houses.
The local people have built the cottages using local materials and sustainable resources and the rooms are big on windows and the view. So, whichever one your clients stay in, they'll be taking full advantage of this mountain setting whether they are in bed, the outdoor bath, having a tipple on the veranda or bobbing in their private infinite pool.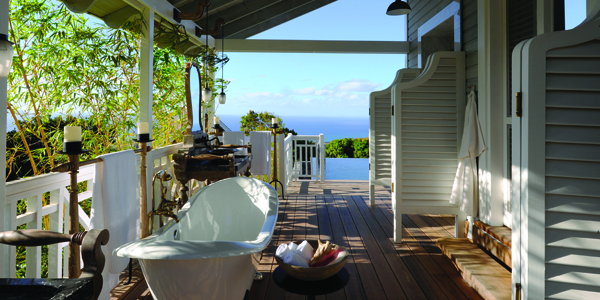 Unless you decide to pull down the enormous projector screen and watch a film of course. In which case the staff bring you all the goodies you could want from a private Caribbean cinema experience.
These views come at a cost – the beach is a 10-minute drive away. But there are shuttles to take you there and back.There's no way of avoiding its work-in-progress status as other elements, such as The Village, where a farmers' market, art galleries and artisan workshops will be based, and Ya Ya Groves are not ready. But Belle Mont Farm is buffered from the building work for guests who don't want to pay attention to what's going on around them. Fresh ingredients
The Kitchen restaurant is ready though, with chef Christophe Letard creating menus – brunch is best – with fresh ingredients from the organic farm, and sourced from farmers and fishermen in the community.
I wouldn't avoid sending clients here because the whole of Kittitian Hill isn't ready. St Kitts is one of the Caribbean's most beautiful islands and more than ready for tourists.
And if your client wants to stay somewhere that's genuinely doing good – even revolutionary – work, watching it unfold is almost more appealing than waiting until the whole place is finished.
American airlinesAmerican Airlines flies to St Kitts from Heathrow – via Miami, Charlotte and New York JFK – from £625 return (aa.co.uk/0844 499 7300). The merger with US Airways gives customers access to nearly 6,700 daily flights to more than 330 destinations in 54 countries, and the loyalty programmes are now reciprocal. Twitter: @AmericanAir Facebook: Facebook.com/AmericanAirlines
?