Ecuador: Small but mighty - and coming after Brits
Ecuador | June 28, 2011
Cuicocha caldera and lake, EcuadorLike a featherweight champion, Ecuador packs a hefty punch that belies its small size.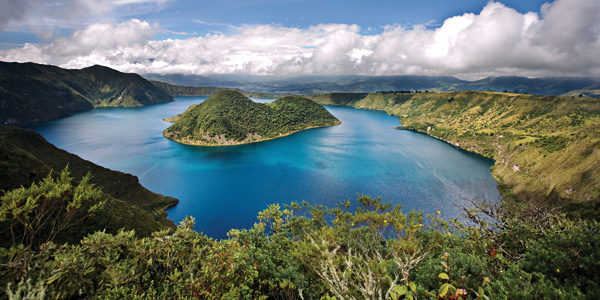 Cuicocha caldera and lake, Ecuador
Like a featherweight champion, Ecuador packs a hefty punch that belies its small size. On the map, it is dwarfed by the likes of Brazil and Peru, but when you tot up the sum of sights and experiences it has to offer, it starts to look more like a serious contender.
The jewel in Ecuador's crown and the major focus of the country's tourists to date is the Galapagos. This archipelago of islands is 625 miles off the coast and is one of the world's top wildlife destinations. Yet until now, tourists have tended to twin a trip to the Galapagos with a tour of Peru, and the Ecuadorean mainland has remained much less visited. But if the tourist board has anything to do with it, that is all set to change.
A major consumer advertising campaign has been targeting markets in the UK, the US, Germany and Canada. In the UK, the first burst is in full swing, with full-page adverts in the Sunday Telegraph and the Mail on Sunday, billboards across London and online advertising on TripAdvisor.
Promoting Ecuador as an undiscovered gem, the adverts draw attention to the country's diverse sights. One says 'I discovered 59 volcanoes in one day, a luxury hotel that floats, the world-famous Galapagos Islands, a pink river dolphin and 492 kinds of frog in Ecuador'.
In the second half of the year the tourism board hopes to get tour operator partners on board, with a budget put aside for joint marketing activity.
Money is being spent on the ground too, with the capital Quito having undergone $250 million-worth of improvements in the past decade, including the creation of markets and pedestrianised squares, development of museums and theatres, and programmes of concerts. Investment has also been made in the railway system.
One of the results of this has been the reopening of the Devil's?Nose train journey, which zigzags its way down the edge of the Andes from Alausi to Silambe and back. Travel 2 has revamped its Essential Ecuador tour to include the ride.
While Ecuador still doesn't have a direct connection to the UK – many choose to connect via Madrid with Iberia – November will see an additional boost when KLM begins offering a direct connection from Amsterdam.
It will replace five flights a week via Bonaire with three significantly shorter direct flights to Quito in combination with Guayaquil, leaving on Wednesdays, Fridays and Sundays.
Lan Airlines also now flies from Madrid to Guayaquil as well as Guayaquil to Galapagos, which means there are good connections back to the UK after a Galapagos cruise, without returning to Quito.
Ecuador has already started to reap the benefits. It is Kuoni's third biggest seller in Latin America, with numbers 52% up for the year to date.
Journey?Latin America has new active trips in Cotopaxi and Otavalo, including kayaking, horse riding, zip-lining and trekking.
W&O?Travel is developing a new range of product to include Ecuador's luxury haçiendas and hotels, and Gap Adventures launched four Ecuador itineraries for 2011, including a Galapagos?family adventure and an Essential Ecuador trip that takes in the highlights of the mainland.
The Adventure Company has a?new volunteering trip to the Galapagos, where clients can get involved with hands-on wildlife conservation.
This year will see the launch of two exciting new properties.
In Quito, Casa Gangotena is an upscale 31-room boutique inside a restored mansion.
Mashpi?Lodge sits in its own private reserve in the rainforest. Designed with glass and steel – in contrast to the usual wood and thatch look favoured by jungle lodges – it's an ultra-modern deluxe property.
It will even have its own cable car, so guests can get up into the rainforest canopy to see where the real action happens.
The properties are being opened by Metropolitan Touring, which works with many UK operators including Journey Latin America, Cox & Kings, Kuoni, Travel 2, Thomas Cook and Sunvil. Metropolitan Tourings' Dominic Hamilton said Ecuador's diversity was a real selling point, adding: "It's a diversity that can be experienced very quickly.
"In a week in Ecuador before a Galapagos cruise, visitors can see Quito, the Andes with their native markets, the Avenue of Volcanos, and even fly down to the Amazon."

Cotopaxi volcano, Ecuador
Charles Darwin was bewitched by these volcanic islands, and they are still a paradise for anyone interested in nature. The wildlife has almost no fear of humans, so visitors can get incredibly close to giant tortoises, sea lions and iguanas.
They will experience rare and indigenous species such as albatross, blue-footed boobies and frigatebirds, and offshore they will find whales, dolphins, and rays. Most visitors choose to cruise to see as much as possible, but it's possible to stay in hotels on Santa Cruz and take daily excursions to some islands.
There's a new yacht on sale this year – Latin Trails' Grand?Odyssey. It's a luxury ship with nine suites, all with panoramic windows; a dining room; living area; sun deck with two Jacuzzis; a spa; and a kids' play zone for family departures. Snorkelling and kayak equipment are available free of charge. The vessel is featured in the UK by operators such as Cox & Kings and Sunvil.
Ecuador's capital, Quito, sits in the Andes, surrounded by stunning volcanic peaks. The old town is full of colonial splendour and has been spruced up to bear the title of this year's Capital of Culture (US).
Just outside the city is the Mitad?del Mundo, a monument built at the 'middle of the world' – the equator. Everyone wants a photo with a foot in each hemisphere.
Two hours north of Quito, Otavalo is an Andean town with a famous indigenous market, selling textiles, leather goods, gifts, clothes and spices. A trip here isn't just about shopping – it's a way to see traditional culture close-up.
South of Quito lies the stunning Avenue of the Volcanoes, a necklace of snow-capped peaks snaking down the centre of the country to Cuenca, a beautiful colonial city. Cotopaxi is the most famous peak. Clients can take a day drive out of Quito to the Cotopaxi National Park, go on a scenic ride on the Devil's Nose Train, or stay longer in the area for trekking or horse riding.
Less visited than the Amazon in Peru or Brazil, the Ecuadorian section of the forest offers a more off-the-beaten-track experience. Visitors can fly from Quito to Coca, which only takes 30 minutes. W&O Travel recommends the Ecuadorian Amazon because all the lodges directly benefit the indigenous population.
Popular accommodation options include Sacha?Lodge, Napo?Wildlife Centre and Huaorani?Ecolodge. The Amazon Basin isn't Ecuador's only rainforest option. To the west of the Andes lies the Mindo?cloud forest, only a few hours from Quito, and brimming with birds, butterflies and orchids.
Most visitors only stop at Guayaquil, the largest city on Ecuador's Pacific Coast, for one night, on their way to the Galapagos, but there's plenty more to do.
Puerto Lopez is a base for whale-watching between June and September, and San Lorenzo has wonderful beaches and great surf breaks. There's also Machalilla, Ecuador's only coastal National Park.
The Galapagos Islands are popular. So popular, in fact, that tourist numbers were beginning to threaten the fragile ecosystem of the islands, jeopardising the very reason why tourists want to visit in the first place.
The government in Ecuador has reacted to protect the islands by introducing a new set of regulations that will come into effect in February. From that point, no vessel will be able to visit the same site more than once in a 14-day period, keeping tourists dispersed around all the islands.
The result is that most itineraries will change, so it's important to check with the operator that you have the most current information to give to your clients. Three-night cruises will no longer operate; the shortest itineraries will become four nights.
Some ships are waiting right up to the wire to change; others have gone ahead in anticipation. Sanctuary Retreats' Eclipse begins its new schedule in January, but hosted two special preview cruises this month.
The ship will now operate a five-night option, two seven-night options and a full 14-night cruise taking in both itineraries.