Dubai: The sky's the limit
September 23, 2011
The chatter around one of the world's most-talked about destinations is so polarised that very few people seem to hold a middle-of-the-road view.
The chatter around one of the world's most-talked about destinations is so polarised that very few people seem to hold a middle-of-the-road view. As far as holiday spots are concerned, the famous Marmite strapline has never been so apt.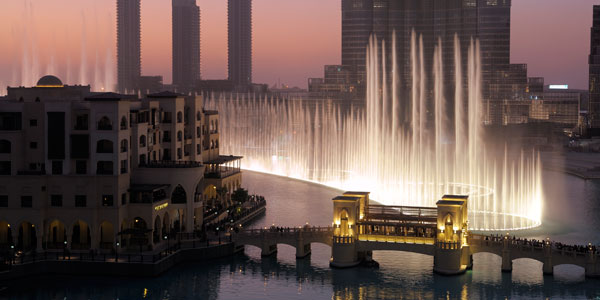 Love it or hate it, Dubai is undeniably unique and the British market fell in love with it faster than any other.
In 1995, fewer than 100,000 of us Brits went on holiday there. By 2008, the numbers were closing in on 900,000 and, if the recession had not hit, the emirate would have been on track to welcome one million British visitors this year.
As it is, UK numbers have taken a knock, sitting at 720,000 for the last few years, with a similar figure expected for this year.
But globally, the story is different. Total visitor numbers to Dubai rose by 700,000 last year to 8.3 million, and numbers in the first quarter of this year were 14% up on the same three months in 2010.
So, next time someone tries to tell you Dubai tourism is going the way of the dinosaurs, you can confidently tell them they are talking nonsense.
The rate of hotel growth in Dubai is still impressive, with new properties continuing to pop up all over the emirate. A notable addition towards the end of last year was One&Only The Palm, which has enjoyed an occupancy rate of 85%-90% since it opened.
Bookings for its older sibling, One&Only Mirage, which opened in 1999, are 8% up so far this year on 2010, with occupancy rates of more than 90% and room rates up 7%.
Olivier P Louis, managing director of both One&Only hotels in Dubai, said: "We are delighted with the way leisure business has bounced back, which is now filtered towards the success of our latest property, One&Only The Palm."
And so he should be. Unlike other cities where a gleaming new five-star hotel can hog the limelight for a couple of years, hot properties in Dubai are knocked swiftly from perches by fickle customers.
With 97 hotels – equating to 35,100 rooms – under development, only Abu Dhabi comes vaguely close, with 66 new properties. Giorgio Armani opened his first hotel in the world's tallest building, the Burj Khalifa, last year, but already the buzz has shifted on to next year's marquee opening, the Palazzo Versace Dubai, which will overlook Dubai Creek.
With two of the biggest luxury brands in the world choosing this city for high-profile forays into the hotel sector, if ever there was a reason to be confident in the emirate's long-term future, it is the continuing arrival of such major players in the premium market.
But what of these stuttering UK figures? Has a plateau been reached? Industry experts don't seem to think so.
Alex Loizou, product manager at The Private Travel Company, said: "We're up 56% year on year – the destination is going from strength to strength.
The fantastic weather and the superb hotel product is a tempting draw. For our clients in particular, it's the recently opened One&Only The Palm and the Al Maha, a luxury desert resort and spa."
Unsurprisingly, Ian Scott, UK director of the Department of Tourism and Commerce Marketing (DTCM), is also confident that the best is yet to come.
You would be hard-pressed to find a more trade-friendly tourist board and Scott does not take the support it receives from travel agents and operators for granted.
The board provides regular newsletters, a comprehensive training website, lots of fam trips and face-to-face training opportunities; for those that want to learn about the destination, everything they need to know is available at dubaiexpert.co.uk.
PERCEPTIONSThe DTCM's toughest challenge has been to combat negative consumer perceptions.
The findings of research it conducted among 1,000 Britons showed that respondents who hadn't visited Dubai believed it to be too expensive, lacking in culture and not suitable for families.
These are not new perceptions. The emirate has been on the receiving end of some challenging press covering a plethora of themes, much of which it hasn't deserved.
The destination seems to have accepted that it will always be subject to worldwide Chinese whispers and will, for the foreseeable future, have to fight to get its messages across.
But it's not doing too badly. The chances are you already know Dubai has some of the best shopping on the planet, scores of the most luxurious hotels, an abundance of extraordinary feats of engineering to marvel at, a plethora of world-famous sporting events – the list is long and growing.
And now it wants to promote three credentials that it is not so famous for: culture, family-friendly activities and affordable luxury.
A surprising trinity from a place that has been considered an exuberant bling-encrusted monument to what money and ambition can achieve.
The hyperbole has not been shelved but it is to play second fiddle for a while – evidence perhaps that Dubai is starting to grow up.
Interestingly, the survey found that those who had already been there believed these three strands are already in place – the marketing is for those who have not yet visited. Scott said it was a question of getting them there and then the destination would sell itself.
Another key to this will be the rapid expansion of its cruise programme and the continued growth of Dubai as a twin-centre stop-off to be combined with the likes of the Indian Ocean and southeast Asia.?
A REAL PLACEWhen I first visited Dubai, in 2008, its infrastructure was lacking and its skyline was dotted with cranes and extraordinary-looking hotels.
My visit this year was my fourth to the emirate, and this time it actually felt like a real place – a destination rather than a five-star hotel farm.
Works-in-progress no longer dominate the skyline.
Dubai is now made up of distinct, manicured areas to stroll around: downtown, with its extraordinary fountain centrepiece, and the marina, with its parade of restaurants.
Most importantly, the metro system, which is close to completion, will take away the very worst element of Dubai – the traffic.
If you haven't sold Dubai yet, it just Mar-might be time to start thinking about it.
EXPERT TIPS
Alex Loizou, product manager?The Private Travel Company
- Experience the Dubai Fountain Show at the Dubai Mall. - Take a high-speed lift to the 124th floor of Burj Khalifa and take in the views from the observation terrace or relax with a drink and dinner at At.mosphere on the 122th floor. - Enjoy a round of golf at one of the many courses, including Emirates Golf Club, Dubai Creek Golf and Yacht Club or Dubai Golf and Racing Club. - Take a four-wheel-drive adventure through the dunes and wadis. - Spend the evening at a Bedouin camp in the dunes, with traditional entertainment and dinner. - Stroll around The Walk which stretches between the Ritz-Carlton and Sofitel Jumeirah Beach and offers a range of restaurants serving international cuisine. - Eat at Stay by Yannick Alleno at One&Only The Palm or try the seafood of Pierchic at Madinat Jumeirah's Al Qasr.
NEW IN DUBAI
Jumeirah Zabeel SarayA beachside resort on the west crescent of the Palm Jumeirah with views of the Arabian Gulf and Dubai's skyline. jumeirah.com

Conrad DubaiThis 550-room hotel is in the heart of Dubai's commercial, business and entertainment district on Sheikh Zayed Road.conradhotels1.hilton.com

Palazzo VersaceDue to open next year, this resort will have 213 hotel rooms and 169 private residences. It will overlook Dubai Creek, in the heart of the Culture Village, which will house institutions for opera, ballet, theatre and fashion shows. palazzoversace.ae

One&Only The PalmThis low-rise resort on Palm Jumeirah blends Moorish and Andalusian architecture throughout. It has a pool, a spa and fitness centre, and an overwater restaurant.thepalm.oneandonlyresorts.com

Kempinski Hotel & Residences Palm Jumeirah Located on the Palm Jumeirah, this luxurious hotel boasts landscaped gardens, a private beach, an outdoor swimming pool, a gym, a spa and a kids' club.kempinski.com/palmjumeirah
DINING AND LIFESTYLE
Hakkasan restaurant at Jumeirah Emirates towersA Michelin-starred Cantonese restaurant located in the heart of Dubai at ground level in the Jumeirah Emirates Towers. Hakkasan offers a private take on modern Chinese cuisine. jumeirah.com

Rhodes Twenty10 steakhouse restaurant at Le Royal Meridien Owned by British chef Gary Rhodes, the concept is described as a "culinary grill with a difference" and the menu offers classic and exotic European dishes with a variety of grills. leroyalmeridien-dubai.com

At.mosphere restaurant in the Burj Khalifa Situated on the 122nd floor of the Burj Khalifa, At.mosphere (below) is famous for being the highest restaurant in the world. Needless to say the view is one of the best in Dubai. burjkhalifa.ae