Cruise: Making waves
December 09, 2015
When I told my children we were going on a luxury cruise in the Mediterranean, staying in a penthouse suite with our own butler, my six-year-old daughter had a nightmare, waking up panicking at the thought of having a strange man in her room.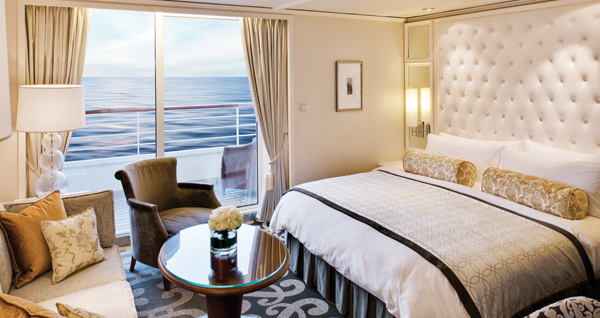 When I told my children we were going on a luxury cruise in the Mediterranean, staying in a penthouse suite with our own butler, my six-year-old daughter had a nightmare, waking up panicking at the thought of having a strange man in her room.
But for someone so clearly unfamiliar with being waited on hand and foot (despite me regularly feeling like her dogsbody), it took next to no time before Marijke was happily calling Alfredo for warm milk and cookies.
As it transpired, that was about all we ever asked Alfredo for, but the penthouse butlers on Crystal Cruises' Crystal Serenity will do everything from unpack, pack, press clothes, make reservations in the speciality restaurants or book shore excursions, and bring you any kind of food or beverage 24/7.
We were more than happy instead with a huge serving of Alfredo's smiles, advice and hugs for the children, which led them both on our return to cite him as one of the best things about the whole cruise.
The staff and service really stood out on this six-night sailing from Monte Carlo to Valletta in Malta, from Stefan in the dining room to Brian at the grill. The crew remembered our names and our preferences and couldn't have done more to make us feel welcome and spoilt rotten.
Other standout features were the exceptional food and the general feeling of space everywhere. We didn't queue once and some areas, like the sports and games decks at the rear of the ship, or indeed the pool, felt positively deserted. It was easy to get an appointment in the spa for a 50-minute facial, as it was reservations in Italian Prego and Japanese Silk Road (by Nobu), two of the three speciality restaurants on board.
We joined Crystal Serenity in Monte Carlo, a stunning backdrop for an embarkation – and a great place to explore and people-watch the following day as the ship manoeuvred slightly out to sea and dropped anchor.
We visited the city's stunning aquarium built right into the rock-face looking out to sea, where the children got to stroke sharks, then hopped on a bus which took us partially along the Formula 1 race circuit to Casino Square. Here, we sipped hideously expensive milkshakes and coffees in the sunshine as we watched the Ferraris, Lamborghinis and Bentleys come and go, taking the high-rollers to and from the famous gambling palace. Clearly inspired, the ship's casino was full that night, although the stakes were not quite at typical Monte Carlo levels.
Day two was Genoa where we decided not to disembark, choosing instead to explore the ship and the kids' club. Crystal Serenity offers a range of activities, from paddle tennis on Deck 13, to golf putting and driving, table tennis and shuffleboard, to keep guests fit and amused.
It also features a narrow, crescent-shaped room on Deck 12 by the Palm Court ballroom, used as a kids' club, which at first glance looked limited to say the least. Not that I was expecting much for children on a line that attracts mostly mature couples but, as it transpired, it was the programme of activities offered by the brilliant youth coordinator Emil, not the size or scale of the facilities and equipment, that won the kids over.
In fact, I couldn't prise my nine-year-old son out of the kids' club and every other parent on board said the same thing. The club ran from 9am-midday, 3pm-5pm and 7pm-10pm every day and children were regularly waiting outside the door for it to open.
Once in, they played epic games of Uno, dodgeball and quizzes, made keyrings and forts, and were taken for ice-cream, a private magic display for children, and to the evening shows as a group, such as the uniquely brilliant iLuminate, a dance display in the pitch-black with the cast wearing computerised boiler suits covered in LEDs. I'd never seen anything like it before at sea.
Add to that the swimming pool, cinema (complete with cartons of popcorn – a genius touch), Jacuzzis, burger and hotdog grill, plus Ben & Jerry's ice-cream parlour (with about 12 toppings available), and Crystal certainly held its own as a family holiday option. And all without a water park, ice rink, rock-climbing wall or dodgem car in sight.
Day three brought us to Civitavecchia for Rome, which again we decided to explore independently, opting for a shuttle from the port into town, a 20-minute walk to the station, an hour's train ride into the heart of Rome, then three stops on the underground to the Colosseum.
I've been before, but nothing prepares you for the scale of such an iconic ancient monument as you step out from the tube – and for my son, who's just been studying the Romans and the gladiators in history at school, the experience was fascinating.
We took our first Crystal shore excursion on day four, taking a coach from Naples 20 minutes up the road to Pompeii for a morning tour of the Roman city covered – and preserved – by the ash that erupted from Mount Vesuvius. Our Crystal guide Vito, a sharply dressed Italian, navigated us through the crowds with a quick word or gesture to his fellow guides. All of them deferred to him and you got the feeling no one got a more in-depth tour than us that day.
The same could be said with our second Crystal tour on our last day – an exploration of Mount Etna, where the incredibly knowledgeable Cinzia, a professor, took us from brilliant sunshine in Catania, Sicily, right up through the last lava flows in 2001 to a crater where we walked the rim, then dropped down deep inside to pick up pieces of lava as the clouds closed in and the snow started to fall. The children were keen to print photos and take in their lava samples to show to their classmates on the first day of the new term – and both earned themselves hero status for a few hours at having climbed an active volcano.
If the days were action-packed, the evenings were relaxed and indulgent, with exceptional cuisine and wine served in the main Crystal dining room and speciality restaurants – five courses if you could manage it – followed by ballroom dancing in Palm Court (which Strictly Come Dancing-mad Marijke loved), clubbing or karaoke in Pulse, a flutter in the casino or just after-dinner drinks in one of the quiet bars.
But the luxurious comfort of the penthouse – complete with its walk-in wardrobe, dressing table, wet-room style bathroom with double sinks and designer toiletries, lounge area, balcony and huge inviting bed, was often the biggest draw, beckoning me to sleep each night at the same time as my two exhausted and blissfully happy kids.
Sample itinerary: Crystal Symphony offers a nine-night Mediterranean fly-cruise from Lisbon to Barcelona, departing August 18, 2016, from £3,152, with return scheduled flights from the UK, overseas transfers and accommodation in a deluxe stateroom with picture window. The price includes meals, soft drinks, most alcoholic beverages, port taxes and gratuities.