African queen: Safari tips from an expert agent
Central African Republic | September 26, 2011
Foot safari at Lewa Safari Camp, Laikipia, Kenya - Photo by Dan Watts and Sean HartleyJulie Croucher, of Personal Travel Advisors, fell in love with Africa while working in Tanzania on behalf of Chester Zoo.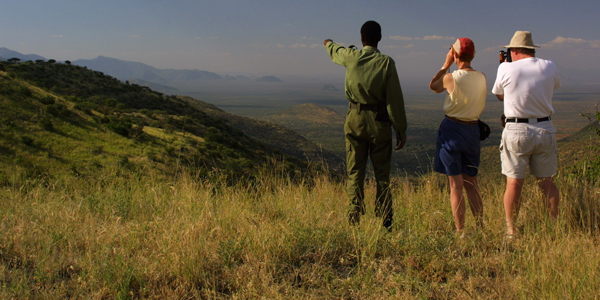 Foot safari at Lewa Safari Camp, Laikipia, Kenya - Photo by Dan Watts and Sean Hartley

Julie Croucher, of Personal Travel Advisors, fell in love with Africa while working in Tanzania on behalf of Chester Zoo. She went on to work as a tour leader and manage a safari lodge.
Julie (pictured) returned to the UK and this year set up her own website,
travelwithjules.co.uk
. She gave Joanna Booth her tips for agents selling safaris.


I tailor-make everything. For me, it's about finding which operators offer the ground-handlers and lodges I know and trust. For agents who don't know Africa so well, it can be a challenge to choose the right product.
One of the first questions to ask is if clients have been on safari before. If not, they may have a pre-conceived idea of what this will mean. Do they envisage a minibus, or a luxury tented camp in the middle of nowhere?
The time of year they want to travel may make the decision about destination for them. Rainy seasons differ and it will also depend on exactly what they want to see; for instance, the migration is very seasonal and you can get it so wrong. Ask if clients just want to sit in a jeep or if they'd like to safari on foot, horseback or by boat. Check if they're travelling for a special occasion, such as a honeymoon, and find out if they're travelling with children.
Don't forget to ask if they want time on the beach after the safari. It's not just about Kenya and Tanzania – you can combine Zambia with Lake Malawi's beaches, South Africa or Botswana with Mozambique, or the Indian Ocean with any safari destination.
Never forget to ask about their budget, as this will be the biggest deciding factor in their trip. Safaris aren't cheap. With a tight budget, many end up in Mombasa going on a one-day trip into Tsavo?East so they can say they saw an elephant – this is not a safari.
I think South Africa – priced in rand rather than dollars – offers the most bang for your buck. It's good for first-timers, offering 'soft' safaris for those who are a bit scared of bumps in the night, with good roads.
You can save money by not flying up to Kruger, and self-driving north along the Garden Route to one of the Eastern Cape parks or game reserves. Port Elizabeth is only about 40 minutes from the reserves, and is much cheaper than fly-in lodges.
Younger people will find the best value for money by joining a small-group camping adventure. Vehicles and drivers are expensive, so sharing the cost is ideal.
In Kenya, try Somak's good value camping safaris, or Porini, a company whose tented camps are widely featured in operators' brochures, but also have mobile camping safaris. Guests camp in the private conservancies away from the crowds, and the groups are small, with only eight people.
These options give you the full big-five experience in Amboseli and the?Mara. You stay in basic dome tents but there's a communal bathroom, all your meals are cooked and you get an amazing quality of guiding.
Mass-market safaris in Kenya often package up Amboseli, Samburu and the Mara and sell it as the opportunity to see three parks. What they don't highlight is that it takes eight hours in the minibus by road in between, leaving you with little time in the park.

Amboseli to the Mara - driving route |
View Larger Map
They use the large lodges filled with coach-loads of tourists, so you don't get the real wilderness safari experience. Eating in a buffet dining room with 100 other people means you can't hear the lions roaring.
If clients want a classic safari and ask for the Mara, suggest they consider Samburu and Laikipia. They'll get a more exclusive experience with fewer tourists.
I've switch-sold people between countries a lot. People tend to ask for Kenya, but it really depends what sort of experience they're after as to what destination will suit them best.
Middle Africa suffers from being left out of brochures. Most mainstream packages focus on Kenya and South Africa, and Zambia is reduced to a flying visit to Victoria Falls. It's infuriating that other countries get ignored, but just ask the operators – it's not that they don't sell them, they just don't include them in brochures.
For honeymooners or couples, every country has beautiful safari camps. Look out for 'star beds' and romantic sunken bath-tubs in the bush. In Zambia and Botswana some camps arrange sleep-outs on a platform under the stars. Remember to book a private car and guide.
Don't rule out safari for kids. If they're tiny, do recommend South Africa as they must go somewhere malaria-free (the Western or Eastern Cape or Madikwe?Game Reserve), but if they're over eight there are loads of options.
Camps in Botswana and Zambia have family-friendly guides. Footsteps camp in the Okavango Delta has a Young Explorers Club, and kids are shown how to fish from a mokoro canoe and use a bow and arrow. Zambia and Kenya both have some great safari houses that are perfect for families. They might have around four bedrooms, with their own guide, hostess and cook.
Older clients tend to want to avoid bumping around in a vehicle all day, so rule out Kenya by road and Tanzania's northern circuit. Pick camps in Zambia and Botswana in the middle of nowhere where they can fly in and let the wildlife come to them as they sit on their terrace.
Travelling times and distances can cause problems, as brochures rarely make them clear. It might look like a short hop on the map, but flying between Cape Town and Kruger or Mombasa and the Mara takes two or three hours. With transfer times on top, that eats into your day, so if clients are only there for two days it makes a difference.
There are plenty of ways to increase your knowledge. Tourist boards and operators hold roadshows and events, and depending on the size of your agency you can get operators or lodge companies to send marketing reps out to do product training, taking you through the different camps and the ground-handlers they use.
Travel magazines are useful too – I subscribe to so many it's ridiculous. Travel?Africa is the best specialist glossy magazine ever – there's a lot of training in that.
Getting to know your co-workers means you can share knowledge. We have closed Facebook pages for Personal Travel Advisors, and anyone is welcome to chat to me on there.
Operators are only a phone call away, too. I tailor-make and often work with Somak, and Rainbow?Tours and African?Pride are good too.
For adventure tours I tend to use Exodus, and for high-end holidays, Cox?& Kings, Abercrombie?& Kent and Carrier. For mainstream, Kuoni's staff are excellent on the phone.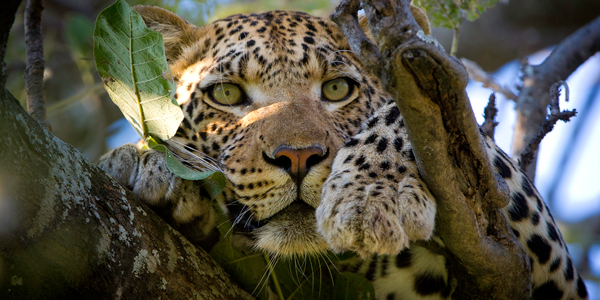 Leopard-spotting at the Vumbura Plains camp in Botswana - Photo by Dana Allen
South Africa: Offers value for money and fantastic food and wine, with the option to get a safari taster. It's good for first-timers, and the non-malarial areas suit young kids.
Kenya: A key destination for first-timers, with a shortish direct flight. To do it well, you need to encourage clients to look outside the ordinary – consider Samburu and Laikipia as well as Amboseli and the Mara.
Tanzania: In the well-known northern circuit you need to go high-end to get away from the crowds. Do consider southern Tanzania; I've switch-sold a lot from the north, to clients who don't want to be one of a crowd.? The Selous is massive, and only a half-hour flight from Dar es Salaam, so it's a brilliant option for safari and beach.
Zambia: I have a soft spot for Zambia. The experience is exceptional – the guiding is excellent, you can do walking safaris, night safaris and boat safaris, and there's a high concentration of leopard. Camps tend to be small and luxurious. A visit to Victoria Falls will be on every client's wishlist.
Botswana: People choose it for the Okavango Delta, but don't forget the unique desert where you'll find meerkats and the San bushmen. It's suitable for lower-cost adventure tours and group trips as well as the very expensive fly-in safaris in top-end camps that the country is famous for.
Namibia: If clients are looking for a mainstream safari, don't choose Namibia. But if they want culture and a wonderful landscape of deserts, sand dunes and coasts, it's ideal. Safari is really an add-on here.
Rwanda: See the mountain gorillas and consider combining Rwanda with Kenya for safari.
Uganda: A beautifully lush, colourful countryside with safari options, as well as the gorillas.
Malawi: Never sold as a standalone, the emphasis is Lake Malawi. It's an idyllic honeymoon spot, and combines well with Zambia – you can hop across from South Luangwa. Many reserves were poached out but safari is on its way back with a couple of good parks in the south.
Mozambique: Up until now it has been about the beaches, but it is just opening up for the expert (and rich) safari-goer. Gorongosa is fantastic, high-end but remote, and will take clients back to the days of the old adventurers.